(CNN) -- Golf legend Arnold Palmer has just celebrated his 80th birthday and exclusively told CNN's Living Golf that he hopes to play for another ten years.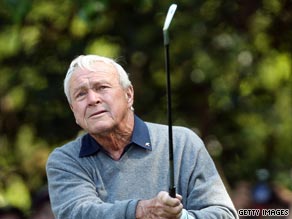 Arnold Palmer has just celebrated his 80th birthday and intends to play until he is 90.
Palmer won seven majors in a glittering career which spanned over half a century before he finally retired from competitive golf at the end of the 2006 season.
He made the last of his 50 appearances in the U.S. Masters in 2004 and is now honorary starter of the Augusta grand slam.
Palmer's best years were between 1960 and 1963 and he won his final major at the 1964 Masters, but he continued to rake in a fortune through sponsorship and lucrative business ventures long after he became a contender on the PGA Tour.

Living Golf's interview with Arnold Palmer. »
"I still love playing. I get out and I like to hit the golf ball and I would like to be playing at 90," Palmer added.
"Although I'm a little disappointed right now with my game. I'm not hitting the ball now very far and that is the one thing that is kind of holding me back from playing more golf [socailly].
Don't Miss
"I'm working on building a little muscle and hitting the ball a little further, but without a great deal of success right now. But Gary Player said to me one that I'm only hitting the ball so far, he can hear it land!"
And he revealed that if he would have played against Woods, who has won 14 majors, in his era it would have been an intriguing contest.
"I miss competing a lot, but lately my game has not measured up to the standards I would like to play so it is very difficult to compare my game to Tiger's now," Palmer said.
"I think that Tiger without question is the best player in the world today and I don't think that his surgery affected his game negatively at all.
"I know him well enough to know that he's never stopped taking care of himself and taking really good condition he's probably the fittest golfer out there and he continues to stay fit.
"And I think that for as long as he does, he will continue to win at record setting pace. If we were the same age, same time, same station, we'd have a good go at it.
"I've been compared to Phil Mickelson quite a lot and a couple of other players, but I'm pleased that people would even think about that and the fact that they play so well."

Palmer admitted he intends to still be playing the game socially in a decade's time and that the only major regret of his career was not winning the U.S. PGA Championship.
"I can go back and think of a lot of reasons and excuses for not having won. But whatever, I feel very fortunate to have had the good fortune I've had on the tour and the kind of life I've been able to live by playing professional golf."
E-mail to a friend

All About Arnold Palmer • Tiger Woods • Gary Player • Phil Mickelson • Golf • PGA Championship • PGA Tour