(CNN) -- Sebastian Vettel will begin the Japanese Grand Prix in pole position after the Red Bull driver produced the fastest lap in an action-packed qualifying session which saw Formula One Championship leader Jenson Button penalized five places.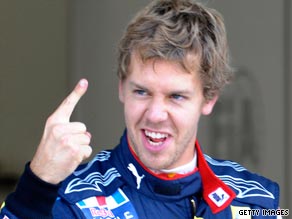 German Sebastian Vettel will begin the Japanese Grand Prix in pole position after being fastest in qualifying.
The German held his nerve in a session which saw three red flags and two drivers taken to hospital to clock a time of one minute 32.160 seconds ahead of Toyota's Jarno Trulli, who also secured a place at the front of the grid after he got round in 1min 32.220secs.
Defending world champion Lewis Hamilton will start in third in his McLaren after he got round in 1m 32.395s having finished ahead of Force India's Adrian Sutil who had recorded 1m 32.466s.
Championship leader Jenson Button was initially down to start at seventh on the grid with fellow Brawn GP teammate Rubens Barrichello, and his main challenger for the title, in fifth place.
But Button and Barrichello were later penalized five starting places after they failed to slow for yellow flags in a crash-strewn session at Suzuka on Saturday.
Button is now down to 12th and Barrichello to 10th on the provisional race grid while Fernando Alonso and Sutil have also been penalized for the same offence.
Sebastien Buemi was also demoted five places, and given a reprimand, for driving back to the pits in his damaged Toro Rosso after the crash that caused the yellow flags to come out.
Button, who needs to finish five points ahead of Barrichello to claim the title in Japan, could now face a late challenge from Vettel who mathematically still has a chance to overhaul the Englishman with two races remaining.
Don't Miss
The session also saw Toyota's Timo Glock airlifted to hospital with a leg injury after he ran wide at the final turn before he careered head into a tyre wall although he should be fit to race on Sunday.
Mark Webber sat out qualifying after crashing during the final practice session on Saturday morning, which left Red Bull unable to fix his car in time.
Webber will start the 53-lap race from the pit lane, and the incident represents a serious blow to Red Bull's hopes of keeping their constructors' title alive as they trail Brawn by 42.5 points.
Toro Rosso's Jaime Alguersuari was also involved in incident as he lost control over the fast, technically-challenging figure-of-eight track and was given the all-clear after a medical check-up.
Vettel admitted it was a difficult session with all the delays and accidents but was pleased to secure his place at the front of the grid.
"I did my best not to get distracted today; it was a strange session with a lot of incidents. The most important thing is that all the drivers are okay," he said in the post-qualifying press conference.
"The car worked fantastically today and we were quickest in Q1, Q2 and Q3. The most difficult was probably Q3, due to running with race fuel and only having one lap.
"In qualifying, it's usual that you're looking for the limit, as it's about just one fast lap time, but turn nine, where the people went off, is quite difficult.
"If you go too wide on that kerb you're basically just a passenger, as you can't get rid of the speed. There's not much run-off, so the wall is close and people hit it.
"It's not easy through the s-bends and the tyres don't really last for a second lap. I'm very happy; we're back to full strength since Singapore and have now put the car on pole.
"With three races to go, it's quite a big gap (to Button), so all we can do is race and try to win and we are in the best starting position. We will see. It's a long race, tough on the tyres and tough on the drivers."
E-mail to a friend

All About Jenson Button • Lewis Hamilton • Brawn GP • Rubens Barrichello • Formula One Racing • World Motorsport Council • Sebastian Vettel • Force India