(CNN) -- Local favorite Dani Sordo produced a fantastic display to hold the lead after the opening day of the Rally of Spain -- the penultimate race of the season.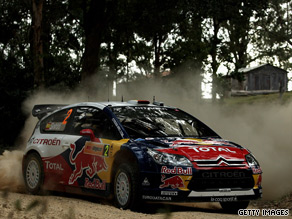 Sordo took victory in the first four stages to lead the Rally of Spain after the opening day on Friday.
The Citroen driver was in superb form from the beginning of stage one and he took victory on the first four of the day's six tests to open-up a 4.9 second lead over team-mate and title hopeful Sebastien Loeb.
Loeb, who has won the past five world titles, hit back to win the final two stages of day one and trails Sordo by just 1.6 seconds.
Ford's Mikko Hirvonen, who leads Loeb by five points in the title race, ended the day in third but is already 31 seconds behind Loeb, despite his hopes that extended pre-event testing would allow him to match the Citroens on the tarmac roads.
While Sordo holds the overnight lead in Catalunya it is unlikely he will be allowed to go on and take his maide victory due to team-mate Loeb's need to gain as many points on Hirvonen as possible ahead of the final round of the year in Great Britain at the end of October.
Don't Miss
Despite the likelihood of team orders, Sordo was pleased as he reflected on his excellent performance. "It's been a good day for me," the 26-year-old told the official World Rally Championship Web site.
"Yes, Loeb is coming really fast but we will see what happens. Everything was OK for me, though. The tires were more difficult to judge because the temperature was high and we had a little understeer, but it's been good."
Loeb was just happy to have a handy lead over Hirvonen, and revealed that changes made to his car following stage four had improved the handling and led to his increased pace.
The 35-year-old said: "I'm happy because we are still very close to first place but the main thing is that it's not Mikko who is first.
"We did struggle a bit in the morning when I had a setting that didn't give me confidence but in the afternoon the car was perfect."
Petter Solberg ended the day in an excellent fourth in his Citroen ahead of the Junior Team entry of Sebastien Ogier. Hirvonen's Ford team-mate Jari-Matti Latvala is in sixth position with Russian youngster Evgeny Novikov and Britain's Matthew Wilson rounding out the points positions.
E-mail to a friend