(CNN) -- Former MotoGP world champion Casey Stoner makes his return at Estoril, Portugal this weekend after missing the last three races.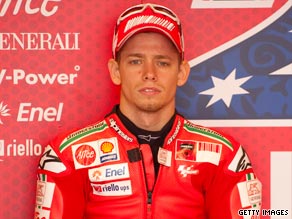 Stoner has been sidelined for the last three MotoGP races because of a mystery illness.
The 23-year-old Marlboro Ducati rider has been sidelined with mystery health problems but is now fit and raring to go after recovering back home in his native Australia.
Doctors now believe that low blood pressure and a lack of sodium were behind Stoner's problems, with over training and past injuries also a factor.
"I'm definitely looking forward to the race weekend. Having three races off is the biggest period away from racing in my life. It was very difficult to accept the advice of the doctors to stop racing." Stoner told the official Marlboro Ducati Web site.
"In the past I have raced even when injured, like in the last few races of the 2008 season when my wrist was broken, but this time it was really not possible. I hope I'll be able to be more competitive than I was in the past, but we will have to wait and see." Stoner added.
Defending champion Valentino Rossi currently holds a 30-point lead from team-mate Jorge Lorenzo at the top of the standings with just four races remaining.
Stoner continued: "The doctors have put me on some salt tablets to increase my sodium levels but we will have to see if it helps. We will understand more during the weekend.
"Of course it's going to be difficult -- at first we won't know if it will work because I've been off the bike so long that in any case my muscles will take some time to get race fit again.
"But, as I said, I'm looking forward to getting back and to starting work on the bike, looking towards the future." Stoner continued.
Meanwhile, Rossi is confident of another title win this year: "We are in the final stage of the championship and we have a strong position but, as we've seen throughout this season, anything can happen and we know the championship is far from over yet." the Italian told reporters
E-mail to a friend