(CNN) -- America's Sean O'Hair shot a first-round, four-under 66 to claim a one-stroke lead over compatriot Tiger Woods at the PGA Tour Championship in Atlanta, Georgia.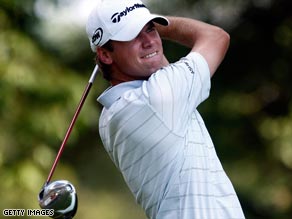 Sean O'Hair shoots into a one-shot lead at the PGA Tour Championship in Atlanta, Georgia.
The 27-year-old hit six birdies and two bogeys at the East Lake golf course, to give a early lead over a triumvirate of top-class talent; with Woods, Padraig Harrington and Stewart Cink all in second place on 67.
If third-place man Lucas Glover (68) is included -- it means seventh seed O'Hair must fend off the challenge of players who have won seven of the last 10 majors to capture overall victory.
If O'Hair can hold his nerve, and Woods and Stricker finish further back than third, he stands to pick up the $10 million dollar prize on offer for the FedEx Cup title winner as well as the $1.35 million first-place amount for the Atlanta event.
"I don't even know if I'm going to have that opportunity, but if I do have that opportunity, I hope I have like a five-shot lead," O'Hair told reporters after completing his round.
Don't Miss
Heavy rains have battered Georgia over the last week, but despite the inclement weather that course played well according to the players.
"Considering all that rain we had, it's really dried out, and the greens are like bricks," said Cink.
"You have to be very smart coming into the greens here to give yourself any kind of aggressive birdies," he added.
E-mail to a friend