(CNN) -- World number two Rafael Nadal has been forced to withdraw from next week's Thailand Open due to an ongoing abdominal injury.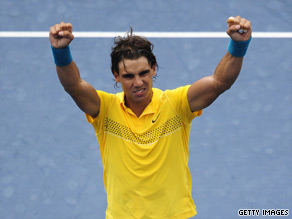 An abdominal injury has forced Rafael Nadal to withdraw from next week's Thailand Open tournament.
Dr Angel Ruiz Cottoro, medical services chief for the Spanish Tennis Federation, revealed the world number two has suffered an acute rupture of his right abdominal muscle, which was confirmed by ultrasound, according to a statement on the tournament's official Web site.
The injury, initially sustained at the recent U.S. Open where he lost to Juan Martin Del Potro in the semifinals, will sideline the Spaniard for two to three more weeks and is the same one that forced his withdrawal from Spain's Davis Cup semifinal victory over Israel at the weekend.
The 23-year-old also missed last year's Davis Cup final triumph against Argentina due to knee problems that have again hampered him this season.
It is the second time that Nadal has withdrawn from the event after pulling out in 2007 with a knee injury.
Defending champion Jo-Wilfried Tsonga of France, compatriot Gilles Simon and two-time grand slam winner Marat Safin are all expected to appear next week.
E-mail to a friend