(CNN) -- South Korea will stage its first Formula One grand prix in 2010, motorsport's governing body, the International Automobile Federation (FIA), announced on Monday.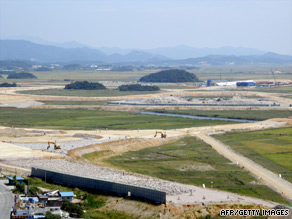 Work is in progress at the 5.6km site of the future South Korean Grand Prix in Yeongam county.
The 19-race season will open in Bahrain on March 14 and the final race will take place in Brazil.
After missing out on staging a grand prix in 2009, Canada will return to the circuit in 2010 with a June 13 date if agreement could be reached with Formula One Management which holds the sport's commercial rights.
If that is not completed then the Turkish Grand Prix will be moved back one week to the June 6 slot.
South Korea is spending millions of dollars on a track in Yeongam county and officials are confident the Korean Grand Prix, set for October 17, will quickly make its mark.
Work is in progress at the 5.6km site, 320km south of Seoul, where seating to accommodate 135,000 spectators is being built.
Don't Miss
Organizers say the main circuit will include Asia's longest straight stretch of 1.2km which will allow speeds of up to 320km per hour.
Seoul has hosted the Olympic Games, the Asian Games and a football World Cup, but never a Formula One race, despite a major domestic auto industry.
The 19-race schedule for the 2010 Formula One championship which gets under way in Bahrain on March 14:
March 14, Bahrain Grand Prix
March 28, Australian Grand Prix
April 4, Malaysian Grand Prix
April 18, Chinese Grand Prix
May 9, Spanish Grand Prix
May 23, Monaco Grand Prix
May 30, Turkish Grand Prix
June 13, Canadian Grand Prix **
June 27, European Grand Prix at Valencia, Spain
July 11, British Grand Prix
July 25, German Grand Prix
August 1, Hungarian Grand Prix
August 29, Belgian Grand Prix
September 12, Italian Grand Prix
September 26, Singapore Grand Prix
October 3, Japanese Grand Prix
October 17, South Korean Grand Prix
October 31, Abu Dhabi Grand Prix
November 14, Brazilian Grand Prix
** Subject to the completion of contract negotiations with Formula One Management. If these are not completed then the Turkish Grand Prix will be moved to June 6
E-mail to a friend