(CNN) -- Renault's chief operating officer Patrick Pelata has laid the blame for the Formula One race-fixing controversy with recently departed team bosses Flavio Briatore and Pat Symonds.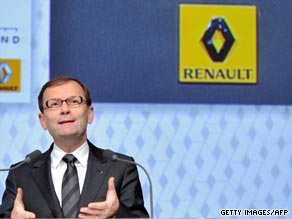 Patrick Pelata has blamed Flavio Briatore and Pat Symonds for the Formula One race-fixing controversy.
Managing director of Renault F1, Briatore, and executive director of engineering Symonds both resigned from their positions on Wednesday.
Renault F1 also announced they would not contest charges of fixing the 2008 Singapore Grand Prix.
Nelson Piquet Jr. claimed Briatore asked him to crash in order to maximize the chances of teammate Fernando Alonso winning the race.
The French car constructors now face being thrown out of Formula One if the allegations are proved by an investigation being conducted by the governing body of world motorsport, the FIA.
The team will appear will appear before the FIA World Motor Sport Council in Paris on Monday to hear their fate.
"Flavio Briatore considered he was morally responsible and resigned," Pelata told French radio station RTL.
"We don't want a fault by two people to reflect upon the whole company and the entire Formula 1 team. I don't know all the details but there was a fault and a fault requires a sanction.
"We will know more about the details after Monday with the FIA. For the moment we have assumptions but it is clear that basically there was a fault."
Pelata would not be drawn on the French manufacturer's future in Formula One and would not comment on speculation that they will end their involvement in the sport.
He added: "This is not the debate today. We will have it calmly. Formula One is the world's most-watched show and you have to respect that - it has been in the vanguard of progress for car technology.
"It is probably not the case at the moment, but it could be again and it is always what Renault have tried to do."
Double world champion Alonso won the race - the first for Renault in two years - despite starting from 15th on the grid.
Just two laps after Alonso came in early to take on more fuel, Piquet's crash forced the deployment of the safety car and the subsequent pit stop of nearly all other drivers, an action that promoted Alonso to fifth from where he went onto to secure victory.
Piquet attributed the crash to a simple error at the time.
Formula One supremo Bernie Ecclestone recently warned "there is going to be a lot of trouble" if the allegations are found to be true.
The FIA proved with the spygate saga only circumstantial evidence is required for them to impose strict penalties. On that occasion they fined McLaren $100 million for breaching the same article that is now faced by Renault.
E-mail to a friend

All About Fernando Alonso • Nelson Piquet Jr. • Flavio Briatore • Renault SA • Singapore • Formula One Racing • Motorsports