(CNN) -- All-rounder Andrew Flintoff has rejected a new contract from the England and Wales Cricket Board, but insists that he still has an international future.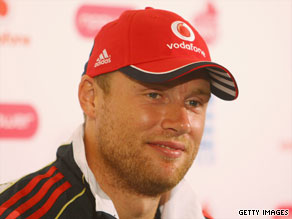 Andrew Flintoff wants to play again for England, but also wants control over his other commitments.
The 31-year-old announced his retirement from Tests before the start of the recent Ashes series against Australia, which England won 2-1, but said he was determined to continue on the international stage in limited-overs formats.
He was offered an incremental contract by the ECB despite undergoing surgery to correct his long-term knee problems, which may rule him out of action until next year.
However, he has turned down the deal -- which would restrict his chances of playing in lucrative Twenty20 tournaments such as the Indian Premier League, where this year he was one of the highest-paid players -- in favor of being able to play when and where he wants.
"Andrew Flintoff has rejected the offer of an incremental contract from the England and Wales Cricket Board in an attempt to expand his cricketing experience and become the best one-day player in the world," said a statement released by his representatives.
"He remains committed to playing one-day and Twenty20 cricket for both England and Lancashire, but wants to expand his cricketing education by playing around the world."
The ECB is paying for former England physio Dave Roberts to assist Flintoff's rehabilitation in Dubai, where he had talks with manager Andrew Chandler before rejecting the contract.
"One of the things I want to pursue more than anything is playing in different worldwide locations," Flintoff told his official Web site.
"I've been very lucky playing for England for the past 11 years and I've sampled different countries, but I've always wanted the opportunity to play more in these places, get to know them and the way they go about their cricket.
"I was flattered to receive the offer of an incremental contract from the ECB, which I wasn't really expecting, but at this stage of my career I don't think I need to be told when to play and when to rest.
"I am grateful to the ECB for the all the financial support they have given me to help in my rehabilitation. I have moved to Dubai because I believe it will help in that, and their decision to pay for Dave Roberts' continued expertise to aid my recovery has been invaluable."
Flintoff said that, if fit, he hopes to return to England's one-day squad for the tour of Bangladesh starting in February, then take up his lucrative IPL contract with the Chennai Kings in March, and also take part in the World Twenty20 tournament in West Indies in May.
Meanwhile, England's one-day side continued to struggle in the absence of Flintoff and key batsman Kevin Pietersen as Australia took a 5-0 lead in the seven-match series in Nottingham on Tuesday night.
Australia captain Ricky Ponting made 126 off only 109 balls as the tourists won by four wickets with 1.4 overs to spare as they chased down England's 299 -- the hosts' best score of the series so far.
E-mail to a friend

All About England and Wales Cricket Board Ltd. • Cricket • United Kingdom • Sports