(CNN) -- Usain Bolt concluded what has been a phenomenal season with another breathtaking display over his favourite 200 meters distance at the World Athletics Final in Thessalonika.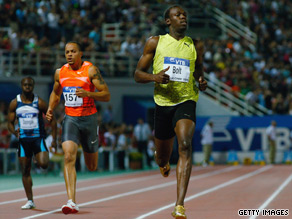 Bolt cruises over the line to finish his season with another spectacular victory in the men's 200 meters.
Bolt said tiredness towards the end of the race, which has prompted him to call his memorable year to an immediate halt, slowed him, although he still roared to another fantastic time of 19.68 seconds at the Greek venue.
The performance yet again saw the 23-year-old Jamaican, who set his second world record of 19.19 seconds when winning last month's World Championship title, racing against the clock rather than his rivals.
Bolt motored around the bend of the sell-out Kaftanzoglio stadium before accelerating down the final straight to leave Wallace Spearmon (20.21 seconds) and Brendan Christian (20.65 seconds) struggling in his slipstream.
The latest superlative victory saw him narrowly miss the Greek all-comers record of 19.67 seconds, which he achieved in July last year in Athens.
"The finish wasn't on purpose, I was a little bit tired," Bolt said after noticeably slowing in the final meters. "I was running on fumes and that was the last bit of energy I had. I'm just happy that the season's over and I did well and I didn't get injured, which was the key for me."
On a great night for women's sprinting, Carmelita Jeter scored a fabulous 100m victory, clocking the fifth fastest time ever of 10.67 seconds with a memorable victory ahead of Shelly-Ann Fraser and Kerron Stewart.
Jeter's time was the fastest on the planet since Marion Jones ran 10.65 seconds at altitude 10 years ago and only a third American, world record holder Florence Griffith Joyner, has run quicker.
E-mail to a friend