By Matthew Knight
For CNN





LONDON, England (CNN) -- Force India's stunning showing at the Belgium Grand Prix two weekends ago has made Vijay Mallya's team the talk of the pit lane.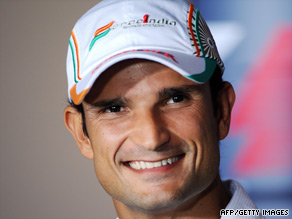 Tonio Liuzzi is confident he can carry on Force India's recent run of success.
Giancarlo Fisichella's switch to Ferrari has presented Force India's test driver Vitantonio Liuzzi with the chance to make an immediate impact after nearly two years away from Formula One racing.
The 28-year-old is relishing the prospect. "It's a fantastic feeling to be back in the race seat," Liuzzi told CNN.
"It was pretty difficult sitting around watching races, so I'm really happy to get the opportunity to race again, especially at Monza in front of my own crowd."
Liuzzi concedes that it might take a bit of time to reacclimatize to Formula One racing at Friday's practice session, but he's confident that come Sunday he can build on the eight points Force India secured at Spa-Francorchamps. The success, Liuzzi says, has been brewing for some time.
"Everybody thinks that the success has all come at once but we've worked really hard all season. From the first race of the season until Spa we've had the greatest development in terms of lap time over any other car in the field."
Spa's low downforce helped Force India and Monza -- where downforce is even lower -- will suit them too. The spiritual home of Ferrari is the fastest track on the Formula One calendar with the cars reaching speeds of 370 kph (230 mph) in the straights. Liuzzi is well aware of the challenges Monza presents.
Don't Miss
"It's scary when you think of the speed you are approaching the Ascari or the Parabolica, but it's a great challenge. They are two high adrenalin corners," he said.
Monza will be the Italian's 40th Grand Prix start. In his two seasons at Toro Rosso in 2006/07 he had a highest finish of sixth at the Chinese Grand Prix. He scored his first Formula One points back in 2005 for Red Bull at the San Marino Grand Prix.
As a boy, Liuzzi was more interested in skiing and soccer, but he fell in love with motorsport after a friend invited him to a kart track when he was 11 years old.
One of his favorite races was the 1991 Spanish Grand Prix which involved a classic wheel to wheel tussle between Nigel Mansell and Ayrton Senna. His hero? "Mansell" Liuzzi says without hesitation. "He was a lion when he was racing. He used to put his heart above the steering wheel".
Driving at Monza presents Liuzzi with the added pressure of satisfying the tifosi -- Italy's motorsport fanatics.
"I'm conscious of the pressure, but I like to drive in home races. There is a special vibe. And the speed at Monza gives you such a different feeling," Liuzzi said.
Liuzzi says that scoring some points this weekend would be a perfect result for him. But Monza will be tough for him and the team, he thinks.
"We are conscious that Monza won't be easy because the cars with KERS [the Kinetic Energy Recovery System that gives drivers' extra horsepower] will have more benefit. But we are sure we will have a competitive car. If we can score points that will be like a win for us."
E-mail to a friend

All About Formula One Racing • Force India