(CNN) -- Arnold Palmer, who celebrates his 80th birthday on Thursday, will go down in sporting history not only as one of the greatest golfers of all time, but also one of the most charismatic.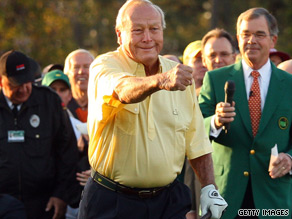 Palmer in his role as honorary starter at the U.S. Masters at Augusta.
Palmer's appeal was such that pioneering agent Mark McCormack begged him to be his first client and their partnership helped change the face of golf and other leading professional sports
McCormack set up International Management Group (IMG), who have represented many of the leading sports stars in the world such as Tiger Woods and Maria Sharapova.
Palmer, who was born in Latrobe, Pennyslvania, was honored by his home baseball team Pittsburgh Pirates before their game against the Chicago Cubs on Tuesday night, and it was richly deserved.
He was taught golf by his father Deacon Palmer, who was greenkeeper and later head professional at the local country club.
He attended Wake Forest University and after national service set about establishing himself on the golf course.
After winning the 1954 U.S. Amateur Championship, Palmer turned professional next year and won the Canadian Open in his rookie year, the first of 62 on the PGA Tour.
He won his first major at the 1958 U.S. Masters and signed up with Cleveland-based McCormack soon afterwards.
McCormack recognized that Palmer's empathy with the galleries and his risk-taking style, which delighted his own "Arnie's Army" who followed him at each tournament, would revolutionize golf.
Shrugging of its country club image, the sport was finding a mass television audience and McCormack was behind a series of specially-made for TV events featuring the "Big Three" of Palmer, Jack Nicklaus and South African Gary Player.
Palmer also played in and duly won the first world match play championship at Wentworth in England in 1964, a tournament organized by McCormack's IMG to showcase players he represented.
It was McCormack who persuaded Palmer to play in the British Open in 1960 and he won in the following two years to cement his status as a global star.
His appearances, along with Nicklaus, also helped boost the flagging major which had been ignored by U.S. professionals because of the low prize money, inclement weather and testing links courses.
Palmer's best years were between 1960 and 1963 and he won his final major at the 1964 Masters, but he continued to rake in a fortune through sponsorship and lucrative business ventures long after he became a contender on the PGA Tour.
He returned to full-time competitive golf at the start of the then U.S. Seniors Tour (now Champions Tour) in 1980 and his appearance assured the success of the venture.
Palmer won 10 events on the tour, including five senior majors, before finally retiring from competitive golf at the end of the 2006 season.
He played the last of his 50 appearances in the U.S. Masters in 2004 and is now honorary starter of the Augusta grand slam.
Palmer, who captained the U.S. Ryder Cup team in 1963 and 1975, was awarded the Presidential Medal of Freedom by George Bush.
E-mail to a friend