(CNN) -- This month on MainSail -- Grand prix sailing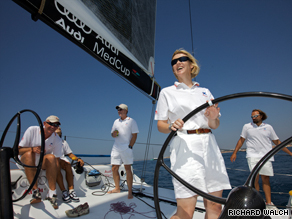 Shirley Robertson at the helm of the King of Spain's yacht during racing at the Audi MedCup in Portimao, Portugal
Many parallels exist between motorsport and grand prix sailing.
In both, it's a team game where the skipper or driver may take the wheel, but that person is nothing without a support team of race-tuned professionals; the driver or skipper is the top of a huge pyramid of technological support.
But who and what is in that pyramid? And what do they all do? This month, CNN's Shirley Robertson, herself a double Olympic gold medallist, finds out as she joins a shore team at the Audi MedCup at the foundation-level of a grand prix sailing team.
Life on board
Life in the shore crew begins around dawn as Robertson dons scuba gear and dives to clean the boat before making sandwiches for the racing team. Day two brings an upgrade as Shirley actually gets to go sailing as a tactician -- planning the racing strategy.
But it is on day three that she finally lands the top job: steering the boat that the King of Spain is regularly seen sailing, taking command in a grand prix race of the Audi MedCup.
Don't Miss
Can she upstage the team's regular helmsman, himself an Olympic and America's Cup sailor or will she embarrass herself? And to crown a perfect day's sailing she gets an invite to the exclusive owners' dinner.
Audi MedCup
The Audi MedCup is the world's leading regatta circuit, the champions' league of sailing -- 15 state-of-the-art boats and the world's top talent racing them round the track.
It's the penultimate regatta of the season, the business end of a tour that sees entries from Europe, New Zealand and America fight for one of the sport's majors. And this month Shirley Robertson and CNN Mainsail are living the circuit on the inside of three of the world's top teams.
E-mail to a friend