(CNN) -- Rock-throwing environmental protesters disrupted the first full day of the Rally of Australia, leading to the cancellation of a special stage on Friday.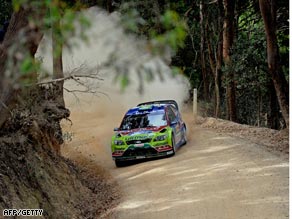 Championship leader Hirvonen was targeted by rock-throwing protestors in Australia.
The protesters targeted a section of the world championship rally which went through Byrill Creek.
New South Wales police said that rocks were thrown at the Ford Focus of title leader Mikko Hirvonen, who was the first car on the road.
Organizers then took the decision to abandon the stage, the sixth super special.
Environmental campaigners failed in legal attempts to get the rally cancelled, with the official Web site of the world rally championships www.wrc.com saying that an independent ecological report had concluded the race was "unlikely to have any significant impact on the flora and fauna in the area."
When the race resumed, Hirvonen's teammate Jari-Matti Latvala of Finland took a 2.2 second lead over promising young French driver Sebastien Ogier in a Citroen.
Defending world champion Sebastien Loeb is in third place, 22.7 seconds adrift in his Citroen.
Hirvonen is fifth, under a second behind Loeb, with Dani Sordo of Spain sandwiched between in fourth.
Latvala is hoping he can help Hirvonen's title bid on Saturday as he will sample the stages first.
"I've enjoyed my driving and it's important I keep the rhythm, so I didn't want make tactics. I'm first on the road tomorrow, and that's going to going to help Mikko," he said.
Loeb, who is three points behind Hirvonen with two rounds remaining after Australia, moved ahead of the Finn in Australia with a strong performance in the final two special stages held on a street circuit in Murwillumbah on Friday night.
Loeb and Ogier gambled on keeping their worn rear tires on the asphalt suface and it gave them increased grip.
Hirvonen will still start third on the road on Saturday, with the running order decided before the street circuit stages, and will hope Latvala will act as his "roadsweeper" as he attempts to increase his title lead over Loeb.
E-mail to a friend