(CNN) -- Russia's Yelena Isinbayeva, Kenenisa Bekele of Ethiopia and U.S. star Sanya Richards will be competing for a $1 million jackpot in the final Golden League meeting of the season in Brussels on Friday.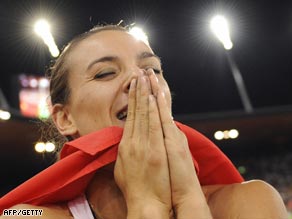 Isinbayeva will be hoping for a golden celebration in Brussels.
The massive pay out is awarded to athletes who win their events at all six of the elite European track and field meets and the trio go into Brussels with perfect records.
Isinbayeva rebounded from her world championship disappointment, where she failed to make her opening height in the pole vault, by breaking her own record at the previous meeting in Zurich with a 5.06m clearance.
Bekele, who did the 5,000-10,000 meters double at the world championships in Berlin, won the 5,000 in emphatic style at the Weltklasse meet in Switzerland to keep his hopes alive of the bonus.
Richards shared the jackpot with Isinbayeva two years ago and has been equally dominant in the 400 meters. She won her first global title in Berlin.
A sell out crowd of 50,000 is expected for the Ivo Van Damme meeting, with many coming to see Usain Bolt in the 200 meters.
Bolt has avoided a rematch against American star Tyson Gay, who is running the 100.
The Jamaican beat Gay in the 100 in Berlin, setting a world record of 9.58 seconds.
With Gay pulling out of the 200 with a groin injury, Bolt completed the double with a stunning 19.19 seconds world record.
He is unlikely to match that time in anticipated cool conditions in the Belgian capital on Friday.
Bolt could leave the record-breaking to Isinbayeva, who set one of her 27 global marks in Brussels five years ago.
She set one of her 27 world records in Brussels five years ago, but staying perfect for the jackpot will put a big smile on her face.
E-mail to a friend