(CNN) -- Giancarlo Fisichella has signed for Ferrari for the remainder of the Formula One season after being released from his current contract with the Force India team.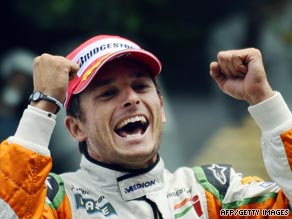 Giancarlo Fisichella moves to Ferrari less than a week after earning Force India their first F1 podium place.
Fisichella will replace Luca Badoer as team-mate to Kimi Raikkonen for the final five races, starting with the Italian Grand Prix on September 13.
Standing-in for the recuperating Felipe Massa following his horror smash in Hungary, Badoer endured a torrid time in the European and Belgian Grands Prix, leaving Ferrari with no alternative but to seek another driver.
A decision was reached following extensive discussions over the past 24 hours, with Force India reluctant to part with Fisichella in the wake of his second place finish at Spa on Sunday.
But Fisichella has now been freed and will become the first Italian to drive for Ferrari in the Italian Grand Prix since Ivan Capelli in 1992.
"I am very grateful to (Force India owner) Vijay Mallya for allowing me this opportunity to drive for Ferrari," the 36-year-old Fisichella told the official Ferrari Web site.
"It is true that it has always been an ambition to do this, and for Vijay to have allowed it to become a reality is very generous.
Don't Miss
"I hope in turn I have helped Force India grow up and be on the right path to achieve their own ambitions. They are now a very competitive team and I wish them all the very best."
Explaining his decision to release Fisichella, Mallya told the oficial Force India Web site: "Giancarlo and his management team approached me with the proposal from Ferrari.
"For any Italian driver, a Ferrari race seat is a long-held dream, and for Giancarlo it was no exception. No-one should stand in the way of this.
"Furthermore the agreement will secure Giancarlo's long-term future with Ferrari and it would be incorrect to jeopardise this, particularly when Giancarlo has made such a vital contribution to Force India.
"We would like to stress we have not agreed any financial settlement with Ferrari," added Mallya. "This agreement has been made in good faith and for the good of Giancarlo and the sport in general.
"A competitive Italian driver in a Ferrari for Monza is a positive story for Formula One, which can only help raise the sport's profile in these difficult times.
"We would like to thank Giancarlo for all his help over the past one and a half seasons, and for delivering us our first world championship points last weekend.
Mallya is convinced his team will continue to be strong for the remainder of the season, with reserve Vitantonio Liuzzi expected to replace Fisichella.
Mallya stated: "For Force India, this sport is a team effort and removing one part, even a major one, will not significantly affect our performance.
"The competitiveness of the team seen in Belgium was a result of hard work in the factory and wind tunnel, and we have further developments coming for the final races."
E-mail to a friend