(CNN) -- Motorsport's world governing body the FIA has launched an investigation into "alleged incidents at a previous Formula One event."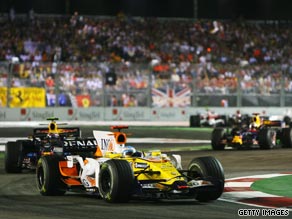 Fernando Alonso won the 2008 Singapore Grand Prix after starting from 15th on the grid.
Although the FIA has not yet formally disclosed the race in question, it has been reported by several news agencies that the race in question is the inaugural Singapore Grand Prix held in September last year.
The investigation is believed to relate to a crash by Renault's Nelson Piquet, whose teammate Fernando Alonso won the race.
Two-time world champion Alonso started from a lowly 15th place on the grid and pitted on lap 12 -- two laps before Piquet crashed out.
The ensuing clear-up operation necessitated the introduction of the safety car and threw the pre-race strategies of many other teams into disarray.
Formula One rules prohibit cars entering the pit lane when a safety car is on track.
Once the safety car was called off the track on lap 20, many teams were frantically calling in their drivers to refuel.
Having already pitted before Piquet's crash, Alonso was able to make his way through the field and up to fifth place.
Two 10-second penalties for Nico Rosberg of Williams and BMW Sauber's Robert Kubica -- who had entered the pit lane while the safety car was on the track -- helped Alonso eventually go on to take the checkered flag ahead of Rosberg and Lewis Hamilton.
Don't Miss
Shortly after crashing out of Formula One's first race to take place under floodlights, Piquet said: "It was my mistake. We tried two extreme strategies, with Fernando quite short and me quite long, in the hope of getting a safety car.
"If I hadn't crashed I would have been lucky with the safety car later in the race because I was very happy."
The FIA has so far refused to confirm to CNN that the event they are investigating is Singapore.
This season, the FIA has already had to deal with one case of impropriety after Lewis Hamilton and his McLaren team were found to have misled stewards at the Australian Grand Prix in Melbourne and were given a three-race suspended ban.
Formula One teams who break the rules are subjected to severe penalties as McLaren found to their cost in 2007.
After being found guilty of spying on rivals Ferrari, McLaren were fined a record $100 million and thrown out of that year's Constructors' Championship.
This year's Singapore Grand Prix is scheduled to take place on September 27. It is the only night race on the Formula One calendar.
The season finale taking place in Abu Dhabi is scheduled to start in daylight and finish under floodlights, it was announced on Monday.
E-mail to a friend

All About Formula One Racing • Fernando Alonso