(CNN) -- Cycling legend Lance Armstrong has confirmed his new Radio Shack team will make their road racing debut in Australia's Tour Down Under.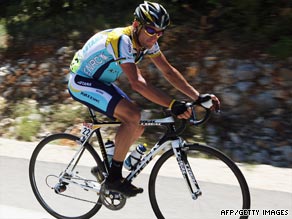 Armstrong will be taking his new Radio Shack team to the Tour Down Under for their debut 2010 race.
The seven-time Tour de France winner revealed he was keen to take part in the event which would also help boost awareness of his cancer work.
"We are going to go back to South Australia with the Tour Down Under, based on the fact that it's a great race," the Texan told reporters.
"Looking forward to going back to Australia for the first race of the season with Team Radio Shack, the first race of all time for Team Radio Shack, and continue the work, continue the global mission, the global campaign."
The 37-year-old Armstrong, who survived testicular cancer and this year came out of retirement to finish third in the Tour de France, announced the formation of Team Radio Shack in July. He will compete as a cyclist, runner and triathlete in events around the world, including the 2010 Tour de France.
Don't Miss
At the final day of Armstrong's global cancer summit in Dublin, South Australia Premier Mike Rann said he was thrilled to have the cyclist return. The 2010 Tour Down Under takes place from January 17 to 24.
"We are delighted to be able to announce that Lance and Team Radio Shack will be coming back to Adelaide, back to South Australia to participate in the Tour Down Under," he said.
"We were thrilled when Lance made his comeback after retirement in South Australia and we're even more thrilled that he's coming back again," added Rann.
Armstrong revealed the riders were excited to travel to Australia as the course was not too tough and the race was run efficiently.
E-mail to a friend