LONDON, England (CNN) -- Lewis Hamilton led from start to finish to win the Singapore Grand Prix at the Marina Bay Street Circuit. It was the Briton's second win of the season and the eleventh of his career.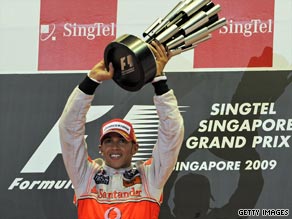 McLaren's Lewis Hamilton led from start to finish at the Singapore Grand Prix.
Toyota's Timo Glock secured his highest placing this season coming in second with Renault's Fernando Alonso coming home in third.
Championship leader Jenson Button bounced back after a disappointing qualifying session to finish fifth, ahead of his teammate and rival for the title Rubens Barrichello who finished sixth.
The result means that Button extends his lead over the Brazilian by one point to 15 points with three rounds of the championship to go.
Button can now secure the drivers' championship in Japan if results go his way.
Sebastian Vettel who was chasing Hamilton for the first half of the race eventually finished fourth after incurring a drive-through penalty for speeding in the pit lane.
Apart from Jenson Button slightly extending his lead over Rubens Barrichello, the story of the weekend was the return to form of Timo Glock and Toyota. It equals the German's best finish in a race (at Hungary in 2008) and recaptures the form he showed in the season's first four races.
The win moves Hamilton up one place to sixth in the drivers' championship with 37 points. Glock's eight points moves him up three places from 12th to ninth.
Drivers' Championship
1: Jenson Button GB Brawn-Mercedes 84
2: Rubens Barrichello Brz Brawn-Mercedes 69
3: Sebastian Vettel Ger Red Bull-Renault 59
4: Mark Webber Aus Red Bull-Renault 51.5
5: Kimi Raikkonen Fin Ferrari 40
6: Lewis Hamilton GB McLaren-Mercedes 37
7: Nico Rosberg Ger Williams-Toyota 30.5
8: Fernando Alonso Spa Renault 26
9: Timo Glock Ger Toyota 24
10: Jarno Trulli Ita Toyota 22.5
11: Felipe Massa Brz Ferrari 22
12: Heikki Kovalainen Fin McLaren-Mercedes 20
13: Nick Heidfeld Ger BMW Sauber 12
14: Robert Kubica Pol BMW Sauber 9
15: Giancarlo Fisichella Ita Ferrari 8
16: Adrian Sutil Ger Force India-Mercedes 5
17: Sebastien Buemi Swi Toro Rosso-Ferrari 3
18: Sebastien Bourdais Fra Toro Rosso-Ferrari 2
19: Kazuki Nakajima Jpn Williams-Toyota 0
20: Nelson Piquet Jr Brz Renault 0
21: Jaime Alguersuari Spa Toro Rosso-Ferrari 0
22: Romain Grosjean Fra Renault 0
23: Luca Badoer Ita Ferrari 0
24: Vitantonio Liuzzi Ita Force India 0
Constructors Championship
1: Brawn-Mercedes 153
2: Red Bull-Renault 110.5
3: Ferrari 62
4: McLaren-Mercedes 59
5: Toyota 46.5
6: Williams-Toyota 30.5
7: Renault 26
8: BMW Sauber 21

9: Force India-Mercedes 13
10: Toro Rosso-Ferrari 5
E-mail to a friend