(CNN) -- Double Ashes-winning hero Andrew Flintoff will be on crutches for at least six weeks after undergoing knee surgery -- the England and Wales Cricket Board said on Tuesday.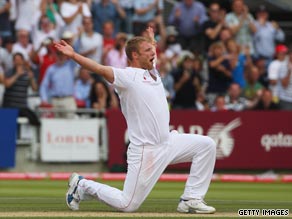 Andrew Flintoff has undergone knee surgery after ending his Test career with his second Ashes victory.
Flintoff, underwent a routine arthroscopy and micro-fracture to two small areas in his right knee at a hospital in London on Monday night.
The 31-year-old all-rounder retired from Test cricket after England's Ashes victory on Sunday but hopes to continue his one-day career.
His recovery period from the operation, carried out by surgeon Andy Williams, is expected to stretch into next year.
"The recovery will require him to be non weight-bearing for the first six to eight weeks post surgery," an ECB statement said.
"At the end of the six to eight-week period, the knee will be reviewed by his surgeon and the timescale for ongoing rehabilitation further determined," the statement continued.
Don't Miss
Since their Ashes win over Australia, Flintoff has claimed he was always confident Andrew Strauss' team would be victorious.

"A draw or loss wasn't an option. England historically have had some shockers in the past, but then we seem to bounce back well from them," Flintoff told reporters.
"Turning up for the first day of practice for this Test match, the lads knew they could pull it off."
E-mail to a friend