(CNN) -- Inspired by the heroics of a rejuvenated Michelle Wie and the battling Christina Kim, the United States retained the Solheim Cup with a 16-12 victory over Europe.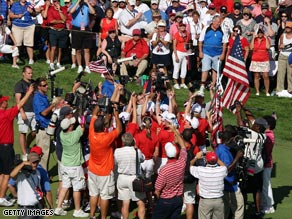 The victorious U.S. team celebrate their Solheim Cup triumph on the 18th green.
The two teams went into Sunday's deciding singles tied at eight points apiece after fourballs and foursomes play, but the home side collected eight of the 12 points available at Harvest Farms in Illinois.
Europe have never won the biennial competition on U.S. soil and Kim made sure that run continued when she went 1-up against Tania Elosegui with one to play to guarantee a half point.
Morgan Pressel then closed out a fine 3 and 2 win over Anna Nordqvist that took the Americans over the winning line to 14 1/2 points, enough for a third consecutive win.
Kim, who rolled home a series of clutch putts in a pivotal match, duly won the 18th to close out a deserved 2-up victory over Elosegui.
The victory was set up by strong play from the U.S. top order with Michelle Wie's 1-up win over Helen Alfredsson the highlight.
Wie, who is at last living up to her teenage promise, had a 3-0-1 record, the best of the home team all week.
"People have seen a different side of me," she said. "This was just a lot of fun. There's nothing to describe it."
Europe had looked set to been well-placed in the later matches, but suffered a series of body blows from which they never recovered.
Laura Davies was three up through 15 holes against Brittany Leng, but closed with successive bogeys to only win a half point.
Gwladys Nocera was on top in her match with 49-year-old Juli Inkster, but birdies on the 14th and 15th by the American veteran also meant only a half for the visitors.
New British Open champion Catriona Matthew gave Europe one of its only two victories with a 3-and-2 win over Kristy McPherson, but the U.S. have now won the last three editions of the Solheim Cup.
E-mail to a friend