(CNN) -- Australia's cricket chief has given a vote of confidence to his under fire captain Ricky Ponting after seeing England regain the coveted Ashes with a 197-run triumph at The Oval on Sunday.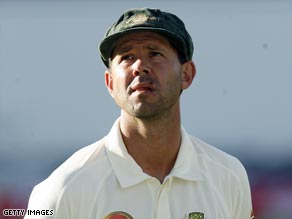 A disappointed Ponting faces up to his Australian side's fifth Test defeat at The Oval.
Ponting has now presided over painful Ashes defeats in England in 2005 and 2009, but James Sutherland mounted a robust defense of his captain when grilled by reporters in Sydney.
"Ricky's had a very, very good series," he said.
"He's been under incredible pressure. I thought the dignity and poise that he showed in defeat was something that all Australians should be very proud of."
Sutherland, who is chief executive of Cricket Australia, also said it would be unfair to blame their selection panel, who have been slated for not naming spinner Nathan Hauritz at The Oval.
"We've lost the game by 200 runs, which is a pretty significant defeat, and having a spinner in the side wouldn't have helped us in the first innings, when we were bowled out for 160 and effectively lost the game," he said.
"I don't think in any way we can hold the selectors accountable for us losing the Ashes," Sutherland added while pointing out that Australia were in a rebuilding phase after the retirement of established stars such as Shane Warne, Glenn McGrath and Adam Gilchrist.
"What you get with a young and relatively inexperienced team is some ebbs and flows in performance," he said.
Meanwhile, former Australian Test star Dean Jones has said Warne would jump at the chance to return to international cricket as Australian captain.
Jones told BBC Radio Five that the leg-spin legend would be a useful stop-gap while current vice-captain Michael Clarke gained experience.
"Ask Shane Warne to come out of retirement just for two years, then give it to Michael Clarke," he said.
"A lot of people might be thinking 'that's stupid' but it will take him two months, three months to get himself fit, just let him play the Test matches and, I tell you what, he would do it in a heartbeat.
"I don't think they'll do that, I don't think they'll go that far but it'll be an option, I tell you, that'll be looked at," Jones added
Ponting, who is 34, is set to return to Australia for a short break before returning towards the end of the one-day international series against England.
Australia slipped from first to fourth place in the world Test rankings with their 2-1 series defeat to England, who are fifth in the tightly-packed rankings.
E-mail to a friend