By Ben Wyatt
CNN






(CNN) -- Ahead of the fifth and final Ashes Test starting on Thursday, former England cricket captain Michael Vaughan has hit out at the game's administrators for scheduling too many matches throughout the year.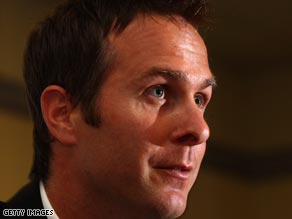 Michael Vaughan hits out at the administrators of cricket for scheduling too many games.
Vaughan, who led England to a famous 2-1 victory over Australia in the 2005 series, exclusively told CNN he felt playing too many games had affected this year's edition of the age-old rivalry.
"I think there's too much cricket - the players are becoming injured and drained. Kevin Pietersen's injury for this series just came from overkill and overdoing things," Vaughan said.
Pietersen scored a crucial 158 to deliver a series victory for the home side at The Oval four years ago, but was sidelined after the first two Tests this time around with an Achilles injury.

Watch CNN's interview with Michael Vaughan. »
The 34-year-old Vaughan added that it was important to balance the needs of the players with the commercial interests of the game.
"I look at the calendar and there's just cricket all year round and it's going to have an effect. These guys all have families and they need to have time to relax and recuperate as well as playing the big series. The administrators just need to be wary of becoming too greedy and not cramming in too many fixtures," he said.

The Ashes series explained. »
Don't Miss
Vaughan also thought the current England side should seize the initiative to seal victory against what he rated as a very beatable Australian side.
"You only get so many opportunities to beat Australia and I believe this is one, and we have to beat them because it will be tough when we travel there [in two year's time].
"In 2005 we were playing an Australian side that were exceptional and included all the legends of the game. The current side don't have them but they're hard-working and will be hard to beat -- but going one-nil up in an Ashes series facing an Australia without [Shane] Warne, [Matthew] Hayden, [Adam] Gilchrist and [Glenn] McGrath, you've got to take that opportunity."
England skipper Andrew Strauss is leading his country for the first time against Ricky Ponting's Australia, a role that Vaughan revealed comes with a large amount of stress.
"The Ashes is the ultimate and the hardest of any challenge for a captain in world cricket. You never get time off because you're always thinking about how to improve the performance of your team, how to play better yourself, where the next tour is coming, spotting talent of someone who could come in and do well.
"It's quite a hard job and I know what Andrew Strauss's mind would have been like in the last few weeks -- he would not have a minute where he wouldn't be thinking about the Ashes.
"I lasted five-and-a-half-years and by the end I was completely drained mentally and physically. [Former captain] Nasser Hussein was similar and so was Michael Atherton, I think there's a life span to the job. Strauss is new to the role and he'll be enjoying it, but it's a very stressful time as well."
Vaughan recaptured the Ashes with England for the first time in 18 years by securing a draw in the final Test four years ago, a feat he hoped the current team could emulate with a win at The Oval this week.

"Winning the Ashes is very, very special thing to be part of. Hopefully the guys can repeat this."
Michael Vaughan is a member of the Laureus Global Friend and Ambassador' program which aims to establish a multi-racial and cross-cultural cricket-training program for school children in South Africa.
E-mail to a friend

All About Michael Vaughan • Cricket • Australian Cricket Team