(CNN) -- Frenchman Romain Grosjean will replace Nelson Piquet Jr as Renault's second driver -- the French Formula One team have announced.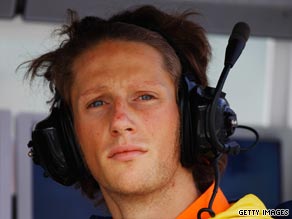 Grosjean will be competing in his first Formula One race for Renault at this weekend's European Grand Prix.
Brazilian Piquet was released from his contract by mutual agreement after failing to claim a point in the first 10 races of the season.
Grosjean, who will race alongside former world champion Fernando Alonso in Sunday's European Grand Prix in Valencia, told the official Renault F1 Web site: "I am very proud that Renault F1 have given me the chance to become a race driver.
"I'm looking forward to driving the R29 and helping the team get the best results possible. It's also an honor to be Fernando's team-mate and to make my Formula One debut alongside a double world champion is especially motivating."
The 23-year-old has been Renault's third driver this season and has previously been champion in the Formula 3 Euro Series and GP2 Asia Series.
Don't Miss
Renault managing director Flavio Briatore told the official site: "We are happy to give Romain the chance to start racing with the team.
"He is an impressive young talent and we expect him to show his skills driving alongside Fernando as we take an aggressive approach to the second half of the season.
"We would also like to thank Nelson for his contribution during the time he has been with us and wish him all the best for the future."
Piquet lashed out at Briatore after being released earlier this month, describing the Italian as his "executioner".
On Monday, Alonso and Renault won an appeal to allow the Spaniard to race in Valencia after he was allowed to leave the pit lane with a loose wheel at last month's Hungarian Grand Prix.
Meanwhile, Ferrari's Felipe Massa is looking to compete in his home grand prix in Brazil in October -- if he gets the medical all-clear.
The 28-year-old Brazilian told a news conference: "I'm not afraid of getting back on the accelerator. I will return to racing."
The comments reinforced Massa's desire to return to the racetrack following his horrific accident in Budapest while qualifying for the Hungarian Grand Prix on July 25.
E-mail to a friend