(CNN) -- Renault have had their suspension from this weekend's European Grand Prix in Valencia overturned by world motorsport's governing body FIA.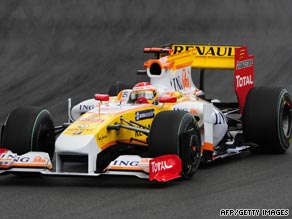 Fernando Alonso will be on the grid for Sunday's European Grand Prix after Renault's ban was overturned.
Renault were handed the punishment at last month's Hungarian Grand Prix when they were found at fault for allowing driver Fernando Alonso to leave the pits with a wheel that had not been properly secured.
Although Renault admitted unsafe conduct, an FIA International Court of Appeal hearing in Paris on Monday decided that the penalty was too severe and replaced it with a reprimand and a $50,000 fine instead.
A statement on the FIA's official Web site read: "Renault admitted to the court that they breached the sporting regulations, in that they failed to ensure that the car complied with the conditions for safety throughout practice and the race, and that they released the car after a pit stop when it was unsafe to do so.
"However, it requested the court to reconsider the severity of the sanction imposed by the stewards.
"Having heard the arguments of the parties, the court have decided as follows:
1) To allow the appeal and overturn the sanction imposed by the Stewards in the contested decision.
2) To issue a reprimand and impose a fine of $50,000 upon Renault.
Don't Miss
"The reasons for this decision will be published in a full judgment in the coming days."
Renault team manager Steve Nielsen had said he was confident the team's suspension would be lifted. "I've been optimistic since we got the penalty. We feel it's unjust," he told reporters.
Jorge Martinez, the vice-president of European Grand Prix organisers Valmor Sports, welcomed the decision. "Alonso's presence is excellent news for the race.
"It is especially a plus for Spanish fans. It would not make sense to hold a race in Spain without the flag carrier of Spanish motor racing," he told reporters in Spain.
Having won their appeal, Renault are now expected to announce a new driver to replace Nelson Piquet.
Piquet revealed over the summer break that he is being dropped midway through his second season with the French team and Renault tester Roman Grosjean has been widely tipped as his successor.
E-mail to a friend