(CNN) -- Roger Federer and Rafael Nadal both crashed out of the Montreal Masters at on Friday night as the world's top eight contested the quarterfinals at the same event for the first time in tennis history.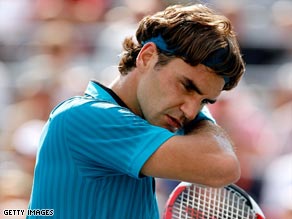 Federer collapsed dramatically in the final set to lose to Tsonga.
But number one Federer and second-ranked Nadal both flunked their lines, admittedly returning to tournament action after layoffs.
Federer, who has not played since winning Wimbledon and then becoming the father of twin girls, let a 5-1 lead in the final set slip as Jo-Wilfried Tsonga of France scored a remarkable 7-6 1-6 7-6 victory.
"It happens in tennis," Federer told the official ATP Tour Web site www.atpworldtour.com.
"It's never over until it's over. It showed today."
Spain's Nadal, the defending champion, was thrashed by Argentine Juan Martin Del Potro 7-6 6-1 after two and a half months out to due to tendinitis in both his knees.
Del Potro will face in-form American Andy Roddick, a 6-4 7-6 winner over fourth seed Novak Djokovic.
Don't Miss
Roddick, who lost to Del Potro in last week's Washington final, his first match since losing in the final at Wimbledon to Federer, brushed aside the Serbian to continue his strong form of all year.
Third seed Andy Murray of Britain was the first man into the semifinals as he eased to a 6-2 6-4 win over Russia's Nikolay Davydenko, the world number eight.
Murray, who can take over the number two ranking spot from Nadal with victory in the hardcourt tournament, next faces Tsonga.
The Scot dropped his serve once in the opening set, but that was to prove the only impact his opponent made.
"The start was important," Murray told Sky Sports. "When he broke me back in the first set it was important for stay strong there because he was actually making quite a lot of mistakes in the first set and I didn't want to let him back in, let him get into a rhythm."
E-mail to a friend