By Matthew Knight
For CNN





LONDON, England (CNN) -- The world of professional golf has a Tiger. Now the amateur game has llamas.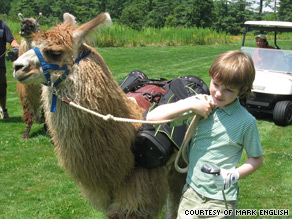 One of eleven llamas in action at Sherwood Forest Golf Club, North Carolina.
Sherwood Forest Golf Club in Cedar Mountain, North Carolina has enlisted the help of eleven of the camelids as caddies in a bid to ease the burden on players carrying their clubs around the course.
Mark English, the llamas' owner and greenkeeper at Sherwood Forest GC told CNN: "It's going nuts. People are stopping on the highway to take pictures. The locals love it and have supported it. The llamas are stars around here."
The llamas have been available for hire since the spring and cost $40 for nine holes.
Each llama is accompanied by a human caddy and can carry two golf bags which are strapped to their backs.
According to the Department of Animal Science at Oklahoma State University llamas are excellent pack animals and are intelligent, easy to train and highly sociable.

English has owned the llamas for two years. He says they love people and they don't wreck the course. He's hopeful he can take them to other courses in the area in the coming months.
While they're not able to provide yardage advice or tend the flag on the green, they will, if you can wait long enough, help improve your lie if your ball by chewing back the rough.
E-mail to a friend