(CNN) -- England batsman Kevin Pietersen has suffered a major setback in his recovery from the Achilles surgery which ruled him out of the Ashes series against Australia.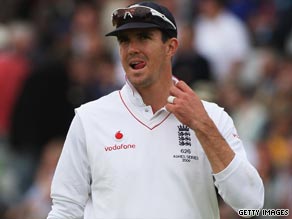 Kevin Pietersen has suffered a setback in his recovery after Achilles surgery.
Pietersen was rushed back to hospital in London on Tuesday after developing an infection in the scar tissue.
The 29-year-old played just two Tests in the series before being forced to undergo an operation on his troublesome Achilles.
He was expected to be sidelined for about six weeks and had even been earmarked to return to play against the Australians in the one-day international series in September.
England also have the Champions Trophy one-day international competition in October, but the complication places Pietersen's immediate future in doubt.
Don't Miss
Pietersen's absence from the England ranks, along with star all-rounder Andrew Flintoff, was keenly felt as they crashed to an innings defeat in the fourth Test at Headingley as Australia leveled at one-all in the five-match series.
Flintoff is expected to return for his final Test appearance at The Oval, and while Pietersen was already sidelined, England will not wish their star batsman to be under an injury cloud ahead of their crucial winter tour of South Africa.
Pietersen, who was born in South Africa, but opted to play for England, has scored 16 centuries in 54 Test matches for his adopted country, averaging a shade under 50.

He was below his best in the opening two Tests at Cardiff and Lord's and clearly struggling with his injury, opting for surgery on July 22.
The England and Wales Cricket Board said at the time that Pietersen would "undertake a comprehensive rehabilitation program to ensure there is no risk of recurrence."
E-mail to a friend