(CNN) -- The third edition of the Indian Premier League will start on March 12 next year, the governing council of the Twenty20 competition have announced.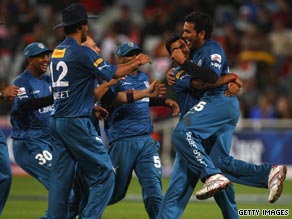 Deccan Chargers will be looking to retain their IPL title when next year's competition begins in March.
Champions Deccan Chargers will host the Kolkata Knight Riders in Hyderabad in the opening fixture of the eight-team competition, which will be played over a 45-day period.
At a governing council meeting, chaired by commissioner Lalit Modi in Mumbai, the IPL also decided the third edition will feature a play-off for the third place between the two losing semifinalists -- taking the total number of matches to 60.
"The playing window for the third edition will remain the same 45 days," Modi told a news conference. "The services of the International Cricket Council's anti-corruption and security unit will be used. We are in discussions with the ICC on that."
Modi also revealed the transfer window will open on December 15 and close on January 5.
The Mumbai Indians, Deccan Chargers, Knight Riders and Kings XI Punjab have opted to play their home matches at an additional venue apart from their existing home ground.
Don't Miss
Players from the unauthorised Indian Cricket League, who have returned to mainstream cricket under the amnesty scheme, will be allowed to play, subject to approval from the Board of Control for Cricket in India. The BCCI is expected to ratify the decision at a working committee meeting later this week.
All international players will now have to obtain a no objection certificate (NOC) from their home board to participate in the IPL.
"This means that players will have to respect their country's commitments under the ICC's Future Tours Program," Modi added. "The IPL respect the sanctity of the FTP -- and players, both current and retired, would have to obtain NOCs for two years in order to close the loop of players refusing to sign contracts with the boards."
The governing council have also decided to expand the IPL from the current eight teams to 10 teams for the fourth edition in 2011, when the franchisees for all teams will be auctioned afresh.
The players too will go under the auction hammer and then contracted by the teams for a period of three years. The cap for the number of foreign players remains at 10 per team -- and only four in the playing XI for each match.
E-mail to a friend