(CNN) -- World Boxing Council heavyweight champion Vitali Klitschko will defend his title against Mexican-American Chris Arreola at the Staples Center, Los Angeles on September 26 -- the Ukrainian has confirmed on his official Web site.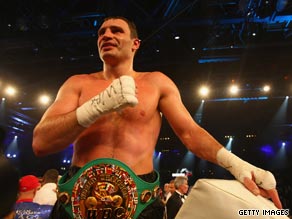 Klitschko will defend his world heavyweight title against the unbeaten Chris Arreola in Los Angeles next month.
The 38-year-old Klitschko, whose showdown with David Haye was scheduled for September 12 before the Briton pulled out of the fight, has wasted little time in setting up a bout against the dangerous 28-year-old Arreola, who is unbeaten in 27 contests.
Bernd Bonte, managing director of Klitschko Management Group, told www.Klitschko.com: "I am glad that the negotiations are over and we are able to present the fight that boxing fans all over the world want to see.
"Both Vitali and Chris are known as superb punchers and a fight over 12 rounds is unlikely to happen. We can all look forward to a spectacular event," added Bonte.
Klitschko, who has twice fought at the famous Staples Center, added: "I am so happy to fight in LA again. The 2003 fight against Lennox Lewis was my international breakthrough and just one year later I became WBC champion for the first time against Corrie Sanders in the same arena.
Don't Miss
"Chris Arreola is one the strongest opponents I can think of. He is young, unbeaten, very confident and has a hard punch on his side. I will not underestimate him but no doubt, I will leave California as the world champion again."
Arreola, who lives in Los Angeles, is ranked as the No.1 contender by the WBC and has achieved 24 knockouts in his 27 victories.
"It is the chance of a lifetime to have a fight in my hometown against the best heavyweight in the world. A dream comes true," said Arreola.
"Klitschko's last opponents did not have the class I have. I will take the advantage and grab Vitali's belt. I will be the first Mexican on the heavyweight throne."
E-mail to a friend