(CNN) -- Former world number one Kim Clijsters makes her long-awaited return to the WTA Tour when she takes takes part in the Cincinnati hard-court tournament on Monday.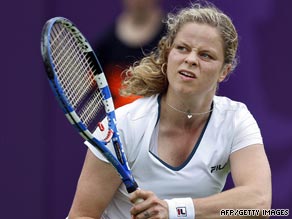 Clijsters will be making he WTA Tour comeback after two years out of competitive action.
However, wild card Clijsters will not finds things easy, as her first match will be against 12th-seeded Frenchwoman Marion Bartoli.
Bartoli comes to the tournament on the back of an impressive win over Venus Williams in the final of the Stanford Bank of the West Classic.
"I see it as a second career," Clijsters told The New York Times.
"Honestly, the first word that comes up is, oh, it's a comeback. But so many things have changed and so many things have happened."
The Belgian collected 34 singles titles before she retired in May 2007 aged just 23, citing injuries and her upcoming marriage.
Don't Miss
Two months later, Clijsters married basketball player Brian Lynch before giving birth to her first child -- daughter Jada Ellie.
Clijsters is in the same half of the draw as top seed Dinara Safina and sixth seeded Svetlana Kuznetsova and could face either or both players if she goes on a winning run.
E-mail to a friend