(CNN) -- Springboks captain John Smit has told a press conference that he is not getting carried away with South Africa's good start to the Tri-Nations championship and insists his side "haven't really done anything yet" ahead of Saturday's clash with Australia in Cape Town.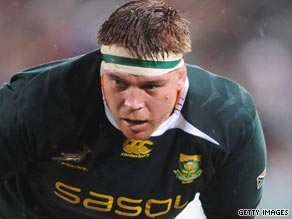 John Smit's Springboks side have won their opening two matches in this year's Tri-Nations championship.
The Springboks currently lead the table following two wins from their two games, both coming against New Zealand, while the Wallabies lost their only game to the All Blacks in Auckland.
Smit and his team were the pre-tournament favorites and their gradual improvement in form has led to more talk of a first title since 2004.
"Everyone outside of our team has put our name on that cup already," said Smit. "We haven't really done anything yet except for the norm.
"It's expected that you have to win your home games. We're far from saying anything about the series yet. You only start to claim for the title when you get on that plane. It's how you travel that really matters," he added.
Smit, who will play his 87th match in the green and gold, feels that the Australians will offer a different proposition in comparison to New Zealand and warned his side to be fully prepared.
He continued: "What we can expect on Saturday is what we have been getting from Australia for the last couple of seasons. It will be a tough Test match which could go either way.

"The Australians have different strengths to other teams. They have good players, they prepare well, they do their homework and they dissect South African rugby a little better than most.
Don't Miss
"They have ideas on how to play us and how to play around us. They engineer their preparation a bit better than most teams."
E-mail to a friend