(CNN) -- Australia paceman Brett Lee is pressing for a return in the fourth Ashes Test at Headingley after proving his fitness following a rib injury.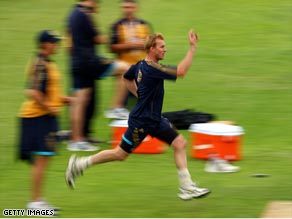 Lee tests his fitness in an Australian net session at Headingley.
Lee has missed the first three matches of the series and seen England take a 1-0 lead after suffering the setback prior to the opening Test in Cardiff.
The 32-year-old starred for Australia in the epic 2005 Ashes series in England and is desperate to play some part in the current showdown.
"I've been bowling eight days straight," he told Press Association.
"Most days I've bowled back to back, morning and afternoon sessions.
"Today I bowled practically the whole session and my pace felt really good. I'm 100 percent ready to go."
With Lee back to full fitness, although lacking match practice, Australia face a tricky selection poser as they bid to level the series on a pitch which usually favors pace bowling.
Mitchell Johnson, who looked the most likely to give way, impressed in England's second innings in the drawn Test at Edgbaston and all-rounder Shane Watson said Lee's lack of competitive action could count against him.
"He's probably a game away, he needs that under his belt to be under calculation for selection, but it's good to see him charging along and when he has that really good pace you know he's going to be at this best," he said on Wednesday.
Australia's vice-captain and Edgbaston batting hero Michael Clarke sat out practice with an abdominal problem while wicketkeeper Brad Haddin is battling for a return after damaging his finger just before the start of the third Test.

Meanwhile, Andrew Flintoff took part in England's practice session, looking comfortable as he batted, but he did not test his troublesome knee by bowling.
England called up batsman Jonathan Trott and seamer Ryan Sidebottom to an expanded 14-strong squad on Tuesday, with spinner Monty Panesar making way.
E-mail to a friend