(CNN) -- Top Swedish golfer Henrik Stenson has been speaking to CNN after reaching his 10-year milestone as a European PGA Tour player.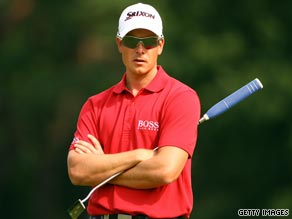 Stenson claimed the biggest victory of his career when landing the Players Championship in May.
The world number seven and Ryder Cup star has enjoyed an illustrious career, winning six European Tour events and securing the biggest victory of his career in May when claiming the Players' Championship -- the unofficial fifth major -- by an impressive four strokes.
That win lifted Stenson to fourth in the world, a record for a Swedish golfer, and he acknowledges how proud he is with his achievements as a professional.
"I have won some great tournaments and I could not complain about my career if I were to retire now. I'm proud of being the top ranked Swedish player of all time -- it's always good fun to set new records."
Despite his success, Stenson took a while before deciding to take up the game.

Watch Stenson's Living Golf interview »
Don't Miss
"I used to play football and other sports, but I got introduced to golf by a friend of mine where I grew up. I used to go along with him to the golf course and from then on I was hooked.
"It was golf, then some more golf before it became golf, golf, golf all the time! It became a competition between me and my friend to see who would chip and putt better and lower our handicap.

"For the first couple of years of me playing I was just into improving my game, but then I started looking around at other players for inspiration.
"I used to watch Seve (Ballesteros) and Nick Faldo and hopefully I learned some things from watching them, particularly Sevvy's recovery shots."
E-mail to a friend