(CNN) -- Nelson Piquet Jr. has blamed his manager and team boss Flavio Briatore after revealing that he has been sacked by Renault following a poor first half to the 2009 Formula One season.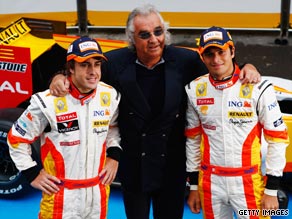 Renault boss Flavio Briatore, center, with drivers Fernando Alonso, left, and Nelson Piquet Jr.
Renault have yet to confirm Piquet's claim that he will not race again for the team this season.
The Brazilian has not scored any points this year, despite a promising debut season in 2008, but insists that teammate Fernando Alonso -- who is 11th in the drivers' standings with 13 points -- has received preferential treatment.
"As a beginner in F1, I could only expect from my team a lot of support and preparation to help me in getting up to the task," the 24-year-old said of his first year at Renault in a statement on his personal Web site.
"Instead, I was relegated as 'someone who drives the other car' with no attention at all. In addition, on numerous occasions, 15 minutes before qualifying and races, my manager and team boss would threaten me, telling me if I didn't get a good result, he had another driver ready to put in my place.
"I have never needed threats before to get results. In 2008 I scored 19 points, finished once on the podium in second place, having the best debut year of a Brazilian driver in F1."
Piquet, the son of the former F1 world champion of the same name, said that billionaire Briatore promised him he would get equal treatment this season.
Don't Miss
"He made me sign a performance-based contract, requiring me to score 40% of Fernando Alonso's points by mid-way through the season. Despite driving with Fernando, two-time world champion and a really excellent driver, I was confident that, if I had the same conditions, I would easily attain the 40% of points required by the contract.
"Unfortunately, the promises didn't turn into reality again. With the new car I completed 2,002km of testing compared to Fernando's 3,839km. Only three days of my testing was in dry weather -- only one of Fernando's was wet.
"Fernando was driving a light car with soft tires in the dry, fine conditions. I never had a chance to be prepared for the qualifying system we use. In Formula One today, the difference between first and 15th position is sometimes less than a second.
"In addition to that, car development is now happening on a race-to-race basis due to the in-season testing ban. Of the first nine races that I ran this year, in four of them Fernando had a significant car upgrade that I did not have. I was informed by the engineers at Renault that in those races I had a car that was between 0.5 and 0.8 seconds a lap slower than my teammate.
"If I look at Germany (where I out-qualified my teammate despite that), if I had that advantage in qualifying I would be fifth and not 10th. If we had that difference in the race, I would have finished ahead of my teammate, which I did in Silverstone despite him having upgrades that I did not have."
Briatore gave Piquet his chance in F1 after a successful career racing in GP2, but the Brazilian has described his two years at Renault as the worst of his career.
"A manager is supposed to encourage you, support you, and provide you with opportunities. In my case it was the opposite. Flavio Briatore was my executioner," he said.
"I feel a sense of relief for the end of the worst period of my career, and the possibility that I can now move on and put my career back on the right track and try to recover my reputation of a fast, winning driver.
"I am a team player and there are dozens of people I have worked with in my career who would vouch for my character and talent, except unfortunately the person that has had the most influence on my career in Formula 1."
The next race on the F1 calendar is the European Grand Prix in Valencia on August 23, with the teams now a week into the month-long summer break.
Renault's reserve drivers include 23-year-old Frenchman Romain Grosjean and Englishman Adam Khan, 24.
E-mail to a friend

All About Nelson Piquet Jr. • Flavio Briatore • Fernando Alonso • Renault SA • Brazil • Formula One Racing • Motorsports