(CNN) -- Formula One's future has been secured after a tumultuous week which saw BMW withdraw from next year's championship and Felipe Massa's serious injury pave the way for Michael Schumacher's return.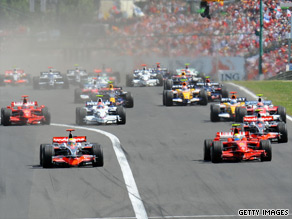 Formula One's teams have agreed to cut their costs as part of a new agreement.
The FIA, the sport's governing body, said in a statement that 12 teams had signed a new Concorde Agreement -- the contract governing how Formula One is run and its financial spoils split.
The new agreement -- between the FIA, teams and the sport's commercial rights holder -- will run until the end of 2012 and ends months of wrangling over how to cut costs.
BMW Sauber, who confirmed earlier this week that they would not compete next year, are the only current team not to have signed the contract.
The FIA blamed BMW's departure on the world economic crisis.
The teams joining in 2010 -- USF1, Campos Meta and Manor GP -- have signed.
The FIA said the deal "heralded a renewed period of stability."
Don't Miss
"The new Concorde Agreement, which runs until 31 December 2012, provides for a continuation of the procedures in the 1998 Concorde Agreement, with decisions taken by working groups and commissions, upon which all teams have voting rights," it said.
"In addition, as agreed in Paris on 24 June 2009, the teams have entered into a resource restriction agreement, which aims to return expenditure to the levels that prevailed in the early 1990s.
"With the 2009 Concorde Agreement and the resource restriction agreement in place, the FIA looks forward to a period of stability and prosperity in the FIA Formula One World Championship."
E-mail to a friend