(CNN) -- England will host the 2015 Rugby World Cup, the International Rugby Board (IRB) have announced at a meeting in Dublin on Tuesday.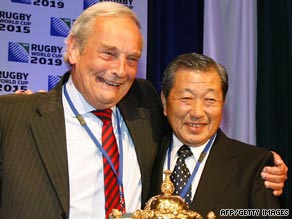 Representatives from the England and Japan rugby board's celebrate hosting the next two World Cups.
The 26-man IRB council voted to ratify a recommendation from the World Cup board that confirmed England as 2015 hosts with Japan to stage the tournament in 2019.
The English Rugby Football Union beat competition from South Africa and Italy after submitting a commercial package worth an estimated £300 million to the global game.
The 2015 World Cup will run from September 4 to October 17, with the final at Twickenham.
Matches will be staged in 10 cities and 12 stadia across the country including Wembley, Old Trafford, the Emirates Stadium, Anfield and the Millennium Stadium, Cardiff, which is the only venue being used outside England.
The last time England hosted the tournament was in 1991, when Will Carling's side were beaten in the final by Australia.
Don't Miss
Between them, England and Japan landed 16 of the 26 votes in favor of rubber-stamping the Rugby World Cup Ltd (RWCL) recommendations.
English Prime Minister Gordon Brown said it was a "fantastic achievement" to win the bid and congratulated the RFU.
He told reporters: "I'm sure the whole country will want to play their part in making this the most memorable of Rugby World Cups.
"The Rugby World Cup is yet another tremendous event to add to the country's decade of sport and another chance to show our nation's passion for sport and what world class facilities we have to offer. I'm sure it will be a tournament to remember," he added.
E-mail to a friend