PARIS, France (CNN) -- How many times can Lance Armstrong say it? He doesn't dope.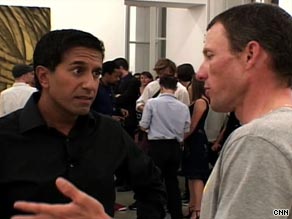 Sanjay Gupta interviews Lance Armstrong in Paris shortly after the end of the Tour de France.
"Look, I've done this a long time, and I've been at the highest level now since 1992 until 2009," the superstar cyclist told CNN's Sanjay Gupta shortly after taking third in the Tour de France, the sport's most prestigious event. "I've been tested more than anybody else.
"If I can take four years off and come back at the age of 38 with more controls than anyone else on planet Earth and get third place in the hardest sporting event in the world, I think we've answered the question."
Over the years, Armstrong has repeatedly denied allegations that he uses performance-enhancing substances. There's never been solid evidence to back up the accusations, and he said he had been given at least 50 surprise tests during the Tour.

Watch Armstrong respond to his critics »
There are various methods of "doping" and a plethora of doping cases that have sacked other cyclists throughout the Tour's history, which dates to 1903.
Don't Miss
Doping commonly refers to any action that artificially enhances athletic performance. That can range from consuming ingredients in simple cold remedies to using erythropoietin.
Known as EPO, the protein hormone is produced by the kidneys, and when released into the bloodstream, it binds with receptors in the bone marrow, where it stimulates the production of red blood cells. More red blood cells means more oxygen delivery to the muscles.
The Tour de France covers 2,200 miles throughout France and bordering countries and lasts 23 days.
Armstrong won his first Tour in 1999, the first of seven consecutive victories. He's the only rider with seven Tour victories.
After winning in 2005, he took a four-year break. Three months before the 2009 Tour, he broke his collarbone after crashing in the first stage of the Vuelta a Castilla y Leon in northern Spain.
On Sunday, Armstrong joked with reporters, according to the London Daily Telegraph. "For an old fart, coming in here and getting on the podium with these young guys was not so bad," he said.
In the last week of the race, Armstrong created a buzz about next year.
"I'll be better prepared in 2010," he said at a news conference.
Gupta pointedly asked Armstrong: Did you care whether you came in first?
"Well, I wanted to come in first, but sometimes in sports there's somebody that's better," he replied. "I was that guy for seven years, and I never understood what it felt like to get second and third.
"I'm 38 years old now, and you race against guys who are 24, 25 or 26, and they're fast, they're strong, they have acceleration. They have all of the things you had at that age," said Armstrong, who turns 38 on September 18. "Then you get third.
"That's what's great about the Tour: that the best man always wins."
Armstrong's Astana team member Alberto Contador won. Luxembourg's Andy Schleck, 24, was second overall.
Armstrong said he used the same training and diet he has used in the past.
"The only difference is that I'm now 38. A 38-year-old man does not wake up every day like a 20-year-old," he said. "I cannot complain. I think I rode well."
"Why come back?" Gupta asked. "What inspired this?"
"I have to have a love for the bike and for the Tour. Otherwise this is way too damn hard to go and do this," Armstrong said.
It's his fundraising for cancer research that, in many ways, keeps Armstrong on the bike.
"When people have a comment or have an issue, they let you know, and most of them are regarding cancer, so that tells me that people understand," he said. "They've been affected either themselves or their loved one, they say, keep going, pedal harder for them tomorrow, for my mom or my neighbor or my co-worker."
E-mail to a friend

CNN's Sanjay Gupta and Ashley Fantz contributed to this report.
All About Lance Armstrong • Tour de France