(CNN) -- England captain Andrew Strauss expects Andrew Flintoff to be fit for the third Ashes Test against Australia at Edgbaston on Thursday.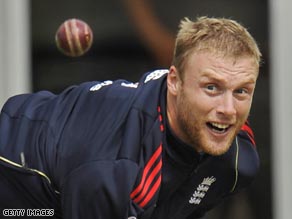 Flintoff bowled superbly at Lord's as England took a 1-0 series lead.
Man of the match Flintoff was the hero of England's last-day victory over Australia in the second Test at Lord's but has been troubled by a knee injury which threatens his participation in the rest of the series.
Flintoff announced his retirement from Test cricket after the Ashes series because of persistent injury problems, but Strauss was upbeat on Monday when talking about his star all-rounder.
"All the indications are that Andrew will be fine," he told Press Association.
"We need to see how he goes over the next couple of days during practice," he said.
Don't Miss
"But at this stage we are very confident and obviously he will want to build on his performance at Lord's."
Strauss confirmed that Ian Bell will bat at four as a direct replacement for the injured Kevin Pietersen, who will sit out the rest of the series following Achilles surgery.
"Ian Bell will come in for Pietersen at four. We're very clear on that," said Strauss.
"It causes the least possible disruption to other members of the side.
"We're all very excited for Ian. He was left out of the team and had to work very hard to get his place back."

England will take a 1-0 series lead to Edgbaston as they bid to win back the coveted Ashes from the world's number one rated Test team.
Flintoff was one of the heroes of the 2005 Ashes home victory, but after Australia regained them 18 months later has suffered a series of injuries which will bring his Test career to a premature end.
E-mail to a friend