From Ben Wyatt
CNN





LONDON, England (CNN) -- The fastest man on the planet, Usain Bolt, admitted he is still fine-tuning his on-track performance ahead of next month's world athletics championships in Berlin in an exclusive with CNN.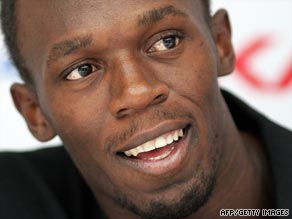 Usain Bolt will be seeking to win his first world titles at the championships in Berlin.
The triple Olympic champion said he is making up for lost time this season, having been injured in a car crash in late April.
The 22-year-old needed minor surgery, but quickly bounced back to win the 100 meters and 200m at the Jamaican national championships and qualify for the August 15-23 showpiece in Germany.
His 100m time of 9.86 seconds was the fastest in the world this year until world champion Tyson Gay smashed it with 9.77 at a Golden League meeting in Rome earlier in July.

Watch Bolt's interview with CNN. »
Bolt will not be going head-to-head with the American in the 100m at the London Grand Prix on Friday, but they will do battle in the relay.
"For me, it will be about getting everything together. I've had some bad starts during the season and I think I really need to work on that, so that's my main aim for London," Bolt told CNN on Tuesday.
"We've actually had some setbacks this year, so we didn't get to work as much as we wanted on the starts The first 30 [meters] have been the main problem for me, and I'm working on that. Once I get that together I should be good, so I'm working on that very hard."
Bolt, who set the world 100m record of 9.69 in winning the gold medal in Beijing last year, said that the car accident had set back his schedule for 2009.
"It didn't affect me mentally in any way, but physically it set me back in training -- 200 training mainly -- practically for maybe a month," he said.
In London, Bolt will be running against compatriot and former world record-holder Asafa Powell in the 100m, and with him in the relay.
"We're cool guys, we're friends," Bolt said. "So it's not really hard, because when you're on the track and lined up against each other then we're enemies, but off the track we're good friends. It's easy, we see each other and we laugh."
A fiercely-motivated individual in his own events, Bolt said the 4x100m relay was "all about the team."
"I'll run any leg. I've never started the 4x100 but I've always wanted to," said Bolt, who won silver in the 200m and 4x100 relay at the last world championships in Osaka in 2007.
"Anywhere is OK for me as I can run the corner and the straight. It's always about the team. It's not about individuals saying 'I'm strongest.'"
Bolt said he would prefer to face his biggest rivals such as Gay and Powell more than he has been able to so far.
"It's always good to compete against the person who's your main rival before the championships so you can determine what you need to do," he said. "If he's beating you, you know what you need to do to get better. If you're beating him, you know what you need to do to stay on top."
He insisted that he doesn't set target times in training, but focuses on honing his technique.
"It's always about technique in every event for me. I'm always staying focused. In training it's about getting everything right, getting it correct and going out there and executing it."

With London to host the next Olympics in 2012, Bolt is well aware of what he will be bringing to the spectacle as he prepares to defend his titles.
"My personality's great and people look forward to seeing what I'll be doing every major championship," he said. "I've always been the best because I'm always working hard and staying focused. I have a championship to defend and I'm just looking forward to it, going out there and doing my best when it comes."
E-mail to a friend

All About Usain Bolt • Tyson Gay • Asafa Powell • Jamaica • Track and Field • Olympic Games • Sports