(CNN) -- Toro Rosso have confirmed that Spanish teenager Jaime Alguersuari will drive for the team for the remainder of the 2009 Formula One season.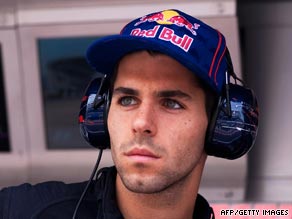 Alguersuari will become the youngest-ever driver on the F1 grid when he competes in the Hungary Grand Prix.
Alguersuari will become the youngest driver to contest a grand prix in the 59-year history of the sport when he lines up on the grid at next weekend's race in Hungary.
At 19 years and 126 days, Alguersuari will beat the previous record held by Mike Thackwell since 1980 by 57 days.
Alguersuari is a product of the Red Bull Junior Program and replaces Frenchman Sebastien Bourdais, who was dropped by Toro Rosso after the last round in Germany.
"I would like to thank Red Bull for giving me this great opportunity to race in Formula One," Alguersuari, who will be team-mate to Swiss youngster Sebastien Buemi, told Press Association Sport
"Ever since I started racing this has been my dream and thanks to the Red Bull Junior Program I will now realise my ambition of lining up on a grand prix grid.
"I am aware that I'm facing a very tough challenge, because coming into Formula One is never easy, coming into Formula One in the middle of a season is even harder and doing so without any testing is really difficult. But already I feel that I am getting great support from the team."
Don't Miss
Alguersuari is the reigning British Formula Three champion and was competing in the World Series by Renault before making the step-up into F1, but team principal Franz Tost admits his new charge will need time to adapt to life at the highest level.
"Red Bull's stated aim for Scuderia Toro Rosso is that, when possible, it should be used to provide a seat for products of its Young Driver Program," said Tost.
"We therefore chose Alguersuari as the most mature driver currently in the program. I am well aware that over the next few months the team and Jaime will face a major challenge, especially because of the testing ban.
"But Red Bull is always ready for a new challenge. I do not expect anything from him for at least his first three races, during which he has to get used to the car, the team and to the Formula One environment."
E-mail to a friend