(CNN) -- Martin Kaymer has played down his chances of winning his first major in the British Open at Turnberry despite his sensational back-to-back victories on the European Tour.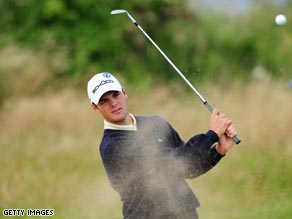 Kaymer practices his bunker play in preparation for the British Open.
In an exclusive interview with CNN, the 24-year-old German said he was "mentally tired" after the effort of claiming the French and Scottish Open titles leading up to the third major of the season.
"The last two weeks took a lot of energy so it's going to be tough," he said.
"Turnberry is only my sixth major and I'm still trying to enjoy and learn.
"Maybe in a couple of years I will be up there and win one," he added.
While Kaymer is modestly dismissing his own chances, he has tipped two-time defending champion Padraig Harrington and Tiger Woods as the "main favorites" in the battle for the Claret Jug.
But having moved to world number 11 with his double triumph, Kaymer is aware that he is being tipped as a possible winner.
"I want to give 100 percent. I'm trying not to put a lot of pressure on myself to play well in the only major in Europe."
The rising young star of European golf is also hoping for wild and windy conditions when play gets underway on the Ailsa Course on Thursday believing that will favor the better players.
"I hope the weather is going to be bad tomorrow, you know rain and wind you know to make it as difficult as possible.
"It's always nice to stand on the first tee and a lot of players are losing their heads already and wanting to be somewhere else."

Kaymer begins his title challenge just before 1pm local time in the company of former champion Ernie Els and U.S. Open champion Lucas Glover.
Light rain and showers are forecast for the first two days with improving conditions over the weekend so Kaymer's hopes of tough conditions look unlikely to materialize.
E-mail to a friend