By Greg Duke
CNN





(CNN) -- Defending Tour de France champion Carlos Sastre has exclusively told CNN that he does not care what happens in the alleged dispute between rivals Lance Armstrong and Alberto Contador at Astana -- and is only concentrating on retaining his title.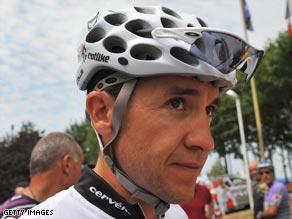 Last year's Tour champion Sastre is focused on the racing, not the team politics or disputes.
On Sunday night, seven-times Tour champion Armstrong told French TV that there was tension between himself and 2007 winner Contador, the latest in a series of comments made by the American that has raised doubts about the Astana team's togetherness during the three-week race.
Contador subsequently denied there was a rift in the team, but the on-going story has dominated the Tour so far, meaning Sastre has been largely left alone by the media -- and it is a situation the Spaniard is more than happy with.
Speaking to CNN on Monday's rest day in Limoges, the Cervelo rider said: "To be honest I am happy being in the background while all this Astana stuff is going on.
"The Tour is unlike any other race and it can be a frenzy. Although I won the race last year, this year I have been able to keep out of the limelight and enjoy the experience a lot more. It means I can concentrate more on my riding. I don't tell the media who to follow, nor do I crave the publicity -- I just want to stay focused on what I need to do."
The 34-year-old Sastre goes into the second week of the race seemingly with a tough task to win his second successive Tour. He is 16th in the general classification, 2:52 behind current race leader Rinaldo Nocentini but more significantly 2:46 off second-placed Contador.
"I am in good form, although I wouldn't say I am in great form," added Sastre, who traditionally comes good in the latter part of three-week stage races.
"It is clear that Astana are the strongest team and they can ride at the front of the race, dictating the pace of the peloton. But I know what I must do and the race will be decided in the Alps and on Mont Ventoux in the final week."
Last year Sastre benefited from neither Armstrong nor Contador being in the line-up but despite their presence in this year's race, he will not be happy with anything other than another victory.
"After winning last year, what else can I do this time? If I am on the podium it will mean nothing because I have finished first before. Nothing else really matters to me -- so it is win or bust. I have to ride my own race -- I know what I have to do to win again."
CNN also caught up with Astana rider Levi Leipheimer on the rest day. The American is fourth in the overall standings, just 39 seconds off the lead, but has been largely ignored while the battle for supremacy rages on between Armstrong and Contador.
"Our team is very strong and I think either Alberto or Lance will definitely win in Paris. At the moment I would say Alberto is the stronger rider, he is far more explosive in the mountains and will probably try to win the race that way.

"However, people are saying that Lance is looking leaner and fitter now than even when he won the last of his seven titles in 2005 -- and I have to agree with them. He really is a phenomenon and we shall just have to wait and see how the race unfolds.
"People are thinking I still have a chance because the 18th stage time-trial will suit me, but I have to be realistic and say that, judging by their past performances, either Lance or Alberto will be champion again."
E-mail to a friend