(CNN) -- Aaron Peirsol has won the 200m backstroke at the U.S. swimming championships in a world record time, to add to the world mark he set in the 100m earlier in the week.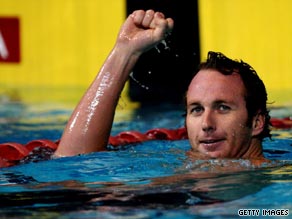 Peirsol celebrates after breaking his second world record of the week in the U.S. swimming championships.
Peirsol clocked a time of one minute 53.08 seconds to defeat rival Ryan Lochte, and better the record of 1:53.94 set by Lochte in winning Olympic gold in Beijing last August.
The victory came three days after Peirsol reclaimed the 100m backstroke world record with a time of 51.94 seconds.
The pair, along with Japan's Ryosuke Irie -- who recently swam 1:52.86 which was not ratified as a world record because he wore an unlicensed swimsuit -- are expected to battle it out for gold at this month's world championships in Rome.
Meanwhile, Eric Shanteau lowered the American record in the men's 200m breaststroke twice in one day, winning the title in 2:08.01 -- over two seconds clear of second-placed Adam Klein.
Don't Miss
Shanteau's heat time of 2:08.43 had broken the mark set by Brendan Hansen in 2006.
Rebecce Soni, who set the women's 200m breaststroke world record of 2:20.22 in winning Olympic gold, came home alone but just missed bettering her time after clocking 2:20.38, with Keri Hehn a distant second in 2:23.70.
Dana Vollmer added a victory in the women's 100m freestyle to her 200m triumph and runner-up finish in the 100m butterfly.
Vollmer won in 54:00 seconds, holding off the fast-finishing Amanda Weir who had to settle for second place in 54.03.
E-mail to a friend