By Al Goodman
CNN






JUMILLA, Spain (CNN) -- Spain's long-running construction boom is a big casualty of the global economic crisis, and the once-thriving golf industry is particularly feeling the crunch.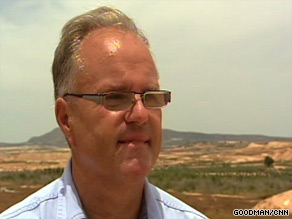 Roy Howitt has practical advice for those hit by the golf-property slump in Spain.
In Alicante and Murcia there are 20 golf courses, many with related property developments that have felt the pinch.
Many golf fans have moved from northern Europe to take advantage of Spain's superb year-round golfing weather but storm clouds are gathering as the economic downtown has led to the construction of several golf resorts stalling, leaving hundreds of investors deep in the rough.
At the Santa Ana project at the town of Jumilla in Murcia province, British couple Martin and Delia Lewis still wait for their promised €400,000 dream home to be built, and the golf course, too.
The site currently has just a few flashy show homes, numerous cement home foundations, but mostly expansive empty fields.
"We just feel as if we've been abused by these people," Martin Lewis said. "They've taken our money, they've done nothing in the way of compensating us."
His wife, Delia Lewis added: "It does give you sleep problems because you're very frustrated and very angry every day."
Their developer, San Jose Grupo, is under court-supervised administration, but said in a statement: "We expect, within the shortest time possible, to hand over the first properties sold, along with the first golf course."
There are some basic safeguards for those still interested in investing, said Roy Howitt, a Briton who has conducted thousands of independent inspections of homes in Spain on behalf of buyers, through his snagging business, Inspecta Homes Spain.
Howitt advises the first action should be to hire a lawyer, not connected to the developer, who can confirm that the property has been built legally with all the necessary permits.
And then to secure a bank guarantee document for all money paid to the developer, so that if problems arise, the bank should provide repayment.
"The consumer system in Spain, if you know how it operates, is very strong," Howitt said.
Howitt and others also advise that buyers consider already-completed homes, instead of buying from a developer's plan, and even furnishing the properties with second-hand furniture, available locally.
"There are a lot of developers who have cleaned up their act, there are lawyers who have cleaned up their act. It's much more of a buyers' market now than it ever was previously," Howitt added.
Mark Stucklin, a British property expert based in Barcelona, said golf resort properties may be just a small percentage of all the new homes built in Spain during the boom, but they have a big profile.
"They are kind of flagship resorts," Stucklin said. "If you look at the segment which is the foreigners buying in Spain -- the sort of 'California of Europe' model, which is people retiring to Spain or buying holiday homes, then it's really quite an important part of the market."
E-mail to a friend