(CNN) -- American swimmer Aaron Peirsol reclaimed his world 100-meter backstroke record as he became the first man to go under 52 seconds in winning the event at the U.S. National Championships in Indianapolis.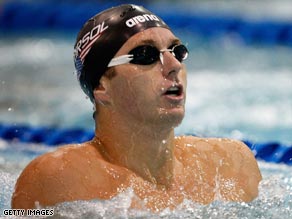 Aaron Peirsol lowered the world 100m backstroke record for the sixth time in his career.
The Californian clinched his place at this month's world championships in Rome along with fellow Olympic hero Michael Phelps, who opened his program with victories in the 200m freestyle and 200m butterfly.
Peirsol, who turns 26 in two weeks' time, trailed Matt Grevers at the halfway stage but came home strongly to win in 51.94 seconds.
Olympic silver medallist Grevers finished second in 53.11.
Peirsol took back the record from Spain's Aschwin Wildeboer Faber, who swam 52.38 on the backstroke leg of the 400m medley relay at the Mediterranean Games on July 1.
"It was a beautiful race," Peirsol told the USA Swimming Web site. "I knew I could do something special tonight. I'm a little speechless. I've said it before: anyone can win a gold medal or set a world record at any time. There's something to be said for consistency."
Peirsol, who beat Phelps in the event at the Charlotte UltraSwim in May, had set the previous best mark of 52.54 when winning gold in Beijing. His latest effort is the sixth time he has lowered the world record.
Phelps, who won an unprecedented eight gold medals in China, was unhappy despite setting the fastest times in the world so far this year in both of his events.
He won the 200m butterfly in 1:52.76, being pushed close by 20-year-old Tyler Clary of Michigan, who was second in 1:53.64.
Phelps, who was banned for three months when he was pictured smoking drugs at a party after returning from Beijing, earlier won the 200m freestyle in 1:44.23.
"I'm not happy unless I'm swimming my best times," Phelps told the LA Times. "This is the first time I've been shaved and tapered where I didn't hit my best times, and that's not something I'm used to.
"There are some things that I'm fired up about that I'm keeping inside. I'm not going to talk about those things because I'm just going to use them as motivation."
His coach Bob Bowman said Phelps, who has been back in the water for only five months since his Beijing heroics, would probably be happier with his times once he had time to reflect on them.
"He's just getting back into racing and realizing there are some things he can control and things he can't," Bowman said. "We can only do as well as we can do with the training we put in.
"If you had asked me a while ago if he'd go 1:52 and 1:44, I'd have been surprised. So I'm very pleased. I think he's ahead of where we initially thought he might be."
Wednesday's racing also saw 15-year-old Elizabeth Pelton qualify for a second event for the showpiece in Italy starting on July 26.
Having qualified in the 200-meter individual medley on Tuesday, she earned a place in the 100m backstroke after finishing second to Haley MacGregory.
E-mail to a friend

All About Aaron Peirsol • Michael Phelps • Matt Grevers • Olympic Games • Competitive Swimming