(CNN) -- Golfer Phil Mickelson's mother has been diagnosed with breast cancer, less than two months after his wife learned she was also suffering from the disease -- the San Diego Union-Tribune reported on its Web site.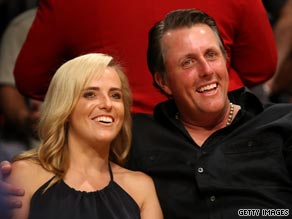 Phil Mickelson's mother has been diagnosed with cancer, just two months after wife Amy (left) was diagnosed.
The news that Mary Mickelson has cancer has been revealed just as the world number two's wife Amy is starting treatments to combat the condition.
Two-time Masters winner Mickelson has taken time off from the PGA Tour to help support his wife and family.
The 39-year-old Mickelson had already said it was unlikely he would play in next week's British Open and that an August return was more probable -- but the latest news could delay his return to action even longer.
Tina Mickelson, the golfer's sister, told the newspaper that her mother was diagnosed a week ago and will undergo surgery on Friday at the MD Anderson Cancer Center in Houston.
Amy Mickelson had breast cancer surgery at the same hospital on Wednesday, according to the report.
E-mail to a friend