(CNN) -- Last year's European No.1 Robert Karlsson will miss next week's British Open Championship at Turnberry because of his left eye problem.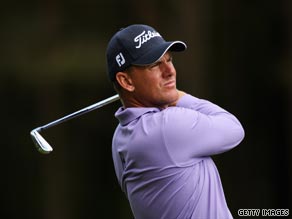 Swede Karlsson has not played on the Tour since competing in the European Open at the end of May.
The 39-year-old Ryder Cup star, joint seventh at Royal Birkdale last summer, has not played since the European Open at the end of May.
The injury has been affecting his balance as well as his vision.
It was originally thought to be an inner ear infection, but then Karlsson was discovered to have fluid behind his retina.
He has been told it could take four to six months to clear up, but having started to suffer early this year the Swede had been hopeful he might recover in time for the tournament in Scotland.
Don't Miss
"Apparently it's quite common for men between the ages of 25 and 50 with stressful jobs," Karlsson told Press Association Sport.
"There's never a good time for these things to happen, but I'm just looking forward to getting through it and getting back to playing.
"When that is, I just don't know. I'm taking it week by week. If I had a normal job it would not be a problem -- I'd just take things a bit easy.
"I don't feel bad at all, which is a bit annoying and frustrating, and my doctor has said that if I have to play I could, but if I did it would most likely take longer to get through this."
Also out of The Open is New Zealander Tim Wilkinson, who came through the American qualifiers but has since needed thumb surgery. No replacements have been called up at this stage since the field is set to be 156-strong even without them.
E-mail to a friend