From Ben Wyatt
CNN






(CNN) -- Australia's record wicket-taker Shane Warne has exclusively told CNN he thinks his former side have what it takes to retain the Ashes in their upcoming series against England.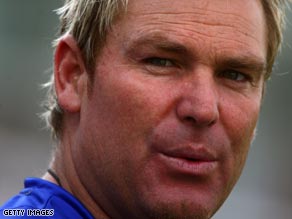 Shane Warne fancies his former team to triumph in the Ashes.
The last time Australia toured England in 2005 they lost the trophy in a dramatic 2-1 defeat, the first loss to their rivals since 1987, before bouncing back with a 5-0 thrashing of their rivals in 2006/7 when they played on homesoil.
Since this time, long-standing members of the team - including spin-bowler Shane Warne, wicketkeeper and batsman Adam Gilchrist and fast bowler Glenn McGrath - retired from international competition leading to 11 debutants being picked for this year's series.

A beginner's guide to the Ashes ».
Despite this, the 39-year-old feels recent form shows the current side are more than capable of securing victory.
"They're two evenly matched sides though Australia are slight favorites after beating South Africa in South Africa recently, England haven't had that much success in the Test arena in recent times.

Watch Warne's interview with CNN ».
"Australia have had a transitional period, but their through that now, they've played more cricket and have games under their belt. They may surprise a few (in this series)," he added.
The first Test of the Ashes gets underway in Cardiff on Wednesday, and Warne says the series, first played between the two nations in 1877, is a special occasion for all involved.
"The history and tradition of the game is huge. You get the chance only once in every four years to play in a place like Lord's in an Ashes series - it's a special achievement.
"The guys generally play pretty well over here. England deserved to win in 2005 but after they were embarrassed in Australia so they'll feel like there is work to do."
Warne took over 1000 international wickets for his country and despite his retirement, the leg-spinner is confident there is enough talent in the ranks to take advantage of some turning wickets.
"I think there are a lot of good spinners in the Australian side that haven't performed well at international level yet.
"Nathan Hauritz has to play the first Test in Cardiff as we know the wicket is going to spin a lot, hopefully he'll do well as I think he's improved a lot.
"Between him and (England bowler) Graeme Swann there's not a lot as they're both similar bowlers, Swann has his confidence up while Nathan is trying to stamp his own authority (on the game)."

As for the normal gamesmanship and competitive banter that goes on between the sides during the heat of Ashes battle - known as "sledging" among players - Warne believes the tradition will continue this time around.
"Trying to put the opposition off their game without breaking the rules, through banter - it's a bit of fun, and I'm sure they'll be plenty of subtle sledging throughout the series."
E-mail to a friend