By Alex Thomas
CNN






(CNN) -- 2005. Four simple digits that used to shimmer above English cricket like a halo and now threaten to weigh it down like a yoke.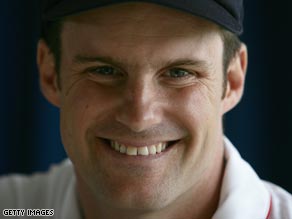 Skipper Andrew Strauss will be able to rely on three former captains in his side to help him fight the Aussies.
That was the date when an 18-year wait ended, Australia were finally beaten and the Ashes reclaimed.
England rejoiced, the players paraded through London on an open top bus and were invited to meet The Queen at Buckingham Palace.
It should have been the start of a successful era for the team. Instead, the side quickly broke up and that golden series began to look like a rare purple patch.
By the time the two countries faced each other again, two years later in Australia, England had lost several key players. Captain Michael Vaughan and fast bowler Simon Jones were injured while batsman Marcus Trescothick flew home with a stress-related illness just nine days before the series started.
The first Test in Brisbane began with Steve Harmison bowling so wide he frightened his own fielders rather than the batsman. From this tone-setting moment Australia raced to a five-nil series whitewash -- reclaiming the Ashes in formidable style.
Don't Miss
Since then, four Australian legends have retired -- batsmen Justin Langer and Matthew Hayden, pace bowler Glenn McGrath and leg spinner Shane Warne meaning the home side has more experience.
Andrew Strauss will captain England but if inspiration deserts him on the field there will be no fewer than three former captains to turn to - Paul Collingwood, Andrew Flintoff and Kevin Pietersen.
"I think the captains in general spend a lot of time in the spotlight," Paul Collingwood told CNN. "There is a lot to do behind the scenes. [Strauss] is the one setting the example and he has got an important role to play in this Ashes series but what he has done so far has been superb."
That seasoned spine of ex-skippers could act as a counter balance to England's Ashes debutants. Of all the new boys, Ravi Bopara will be under the closest scrutiny.
He's the latest batsman to try to fill the team's important number three position. Two centuries against the West Indies earlier this summer augur well, and he doesn't believe the opposition gave England an easy time.
"We were phenomenal against the West Indies and didn't get the credit we deserved. People criticized their performances but we didn't let them play."
The decision to begin the Ashes series in Wales is an interesting one. Whether it was because of the money offered or England's poor record against Australia at Lord's is irrelevant now.
The series will finish at The Oval, as it did four years ago and Strauss and his side have to play a game of selective memory -- remembering what they did well in 2005, how they matched Australia's aggression, bowled fiercely, batted like bullies and held every catch.
They must tap in to those flickering images while, at the same time, forgetting the capitulation in Australia two and a half years ago. Remember the good. Forget the bad. Live in the moment - a sporting mantra that could see England reclaim cricket's famous little urn.
E-mail to a friend